Sarah Pile has served the community as a paramedic firefighter for 10 years. She's taken those skills to teach the next generation of students. She was recently honored nationally for excellence in teaching. Her peers and students have lauded her with a meaningful home win as well.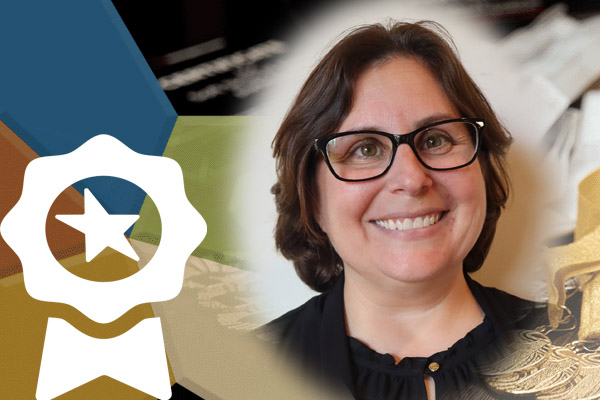 Sarah Pile
Pile is an Emergency Medical Services (EMS) instructor and faculty-time faculty member at Oakland Community College (OCC). She is the newest recipient of the National Institute for Staff and Organizational Development (NISOD) Excellence Award. The awards recognize individuals doing extraordinary work on college campuses. Pile was also selected by OCC faculty and students with the 2023 OCC Teaching Excellence Award—one of seven selected out of 90 nominations.
Pile's supervisor David Ceci, OCC Dean of Public Services/CREST and Director of Law Enforcement Training explains Pile is an outstanding instructor who consistently puts the needs of her students first. 
"She is knowledgeable, firm, empathetic, organized and always prepared," he says. "The multifaceted approach she takes to curriculum delivery ensures all students have an opportunity to learn. It is clear in talking with her students that Sarah is definitely an asset to the EMS Division and OCC."
OCC Dean of Teaching Excellence Marc Thomas adds that Pile uses her real-world experience as a first responder to support her students and helps them understand the life-changing nature of their chosen career.
"Sarah takes time to get to know students, makes sure they feel included, and does her part to make sure no student is left behind on the path to completion." Thomas said she truly exemplifies the community college mission.
For Pile, the awards were surprising and very humbling. "They are a formal recognition that all the investments of time, energy, dedication and sleepless nights are worth the effort," she says. "These awards were never on my radar when I chose this path, but they are very much appreciated, and it makes me feel as though I may have made a difference to at least some of my students."
Learn more about OCC's EMS Academy at https://www.oaklandcc.edu/crest/ems.
About OCC 
Oakland Community College offers nearly 100 degrees and certificates programs with the resources students need to be successful and advance our community. As a top transfer institution, OCC offers one of the state's most affordable tuition rates and flexibility in scheduling with face-to-face and online options. The College is nationally recognized for its high-demand career training with expert faculty in their fields. More than 1 million students have enrolled in the College since it opened in 1965. Learn more at  oaklandcc.edu.  
###
Media Contact: Marketing & Communications | 248.341.2020| contactus@oaklandcc.edu