The importance of food safety and sanitation techniques has increased greatly in the food-service industry due to the COVID-19 pandemic. OCC's Culinary Institute experts are addressing the demand by offering the ServSafe Certification Prep course and exam.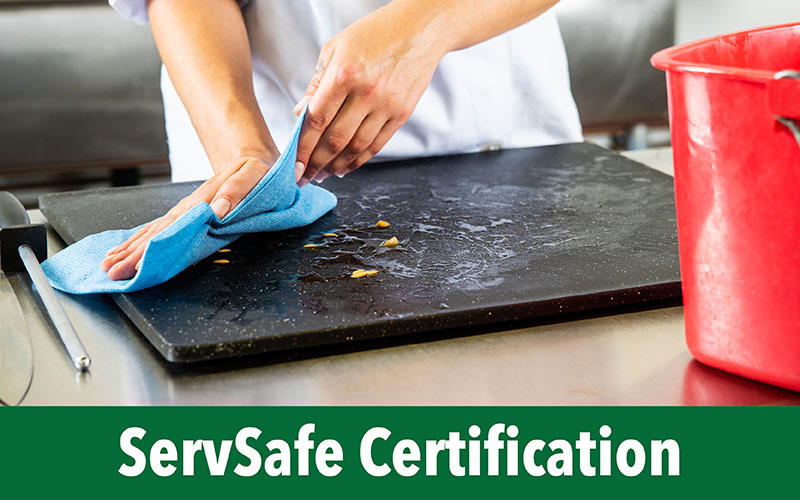 This course is designed to provide individuals in the food-service industry with detailed knowledge of food safety. Individuals will also be prepared to take the certification exam, offered in class and administered by the Educational Foundation of the National Restaurant Association.
Upon successful course and exam completion, certified individuals will be qualified to train personnel in sanitation techniques, food borne illness, safety, personal hygiene, inspections, communicate with representatives of health departments and recognize sanitation deficiencies and initiate improvements.
The course and certification exam will be held at OCC's Orchard Ridge campus from 8 a.m. to 5 p.m. Monday, May 17. Tuition is $91.
ServSafe Re –Certification (Exam Only)
The ServSafe Certification exam will be offered from 3 p.m. to 5 p.m. May 17 on the OCC campus for those in the food-service industry interested in taking the exam only. Cost is $38.
To register for either the ServSafe Certification Prep course and exam or the exam only, visit https://www.oaklandcc.edu/ce/personal-enrichment.aspx.
###
About OCC
Offering nearly 100 degrees and certificates, OCC is Michigan's largest multi-campus community college and No. 1 transfer institution in the state. The College provides academic, career training and enriching experiences, designed to empower students to reach their potential and enhance our community. More than 1 million students have enrolled in the College since it opened in 1965. A seven-person Board of Trustees governs OCC. Board members are elected on a non-partisan, at-large basis, serve as volunteers and are not paid. Mission statement: OCC is committed to empowering our students to succeed and advancing our community. Learn more at oaklandcc.edu.
Media Contact: Marketing & Communications | 248.341.2020 | contactus@oaklandcc.edu