Unparalleled teamwork, professional case study presentation, expert "phantom" patient exams, a bit of creativity, and a smooth slide of the transducer earned eight OCC students two podium finishes at the inaugural, regional SonoBowl hosted by Henry Ford Hospital.
The SonoBowl pitted student teams from the OCC, Henry Ford Hospital and Ascension Providence Hospital diagnostic medical sonography (DMS) programs in a daylong competition. The competition helped mark the 40th anniversary of the Henry Ford hospital-based program and Medical Ultrasound Awareness Month. Diagnostic medical sonographers operate special imaging equipment – casually referred to as "ultrasound" – to create images and conduct tests.
The OCC DMS program is highly competitive, with approximately a 30 percent acceptance rate and excellent job placement after graduation. "Our program is rigorous, with clinical work four days per week, plus classroom time," explained Kelly Warren, OCC's program director for diagnostic medical sonography. Applicant screens include GPA, previous healthcare experience and volunteer work.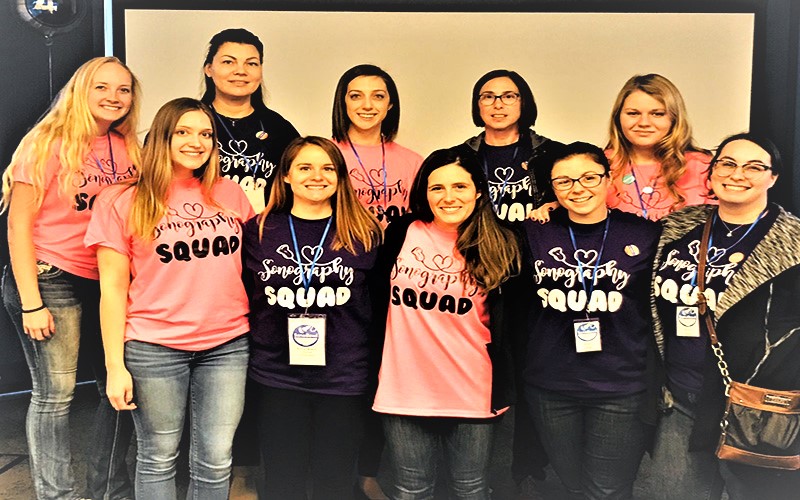 OCC's "Sonopponents," 2019 SonoBowl champions, featured DMS students Hannah Bosman, Darby Lahaie, Madeline Renard and Jacklynn Valentine. OCC DMS students Olga Afanasyeva, Elyse Martinez-Cobb, Nicole Girbach and Rebecca Kagel, "The Cystas," placed third.
"Performing so well in the SonoBowl is testament to the dedication of these students. They accepted this challenge in addition to their coursework and clinical work, which was no easy task. I'm extremely proud of our students," said Warren.
"It was such a great experience to participate in the SonoBowl. I enjoyed the chance to spend time with my classmates in a competitive setting where we could put our knowledge and technique to the test," said DMS student Elyse Martinez-Cobb. "Even though I found the timed events a bit overwhelming, it was such a great opportunity to see how far we've come since starting the program. I hope future DMS classes have the chance to compete."
According to Warren, there is a growing demand for diagnostic medical sonographers as Baby Boomers age and as doctors turn more to imaging technology. The U.S. Bureau of Labor Statistics forecasts a 14 percent increase in demand for medical sonographers through 2028, a much faster growth rate than the average for all occupations.
For information about OCC's diagnostic medical sonography program, visit https://www.oaklandcc.edu/health/diagnostic-medical-sonography/default.aspx.
About OCC
With multi campus system in Oakland County, OCC is Michigan's number one transfer institution, offering nearly 100 excellent degrees and certificates. The College empowers academic and developmental experiences, allowing students to reach their full potential and enhance the communities they serve. More than a million students have enrolled in the College since it opened in 1965. Learn more at oaklandcc.edu.
###
Media Contact: Marketing & Communications | 248.341.2020 | contactus@oaklandcc.edu