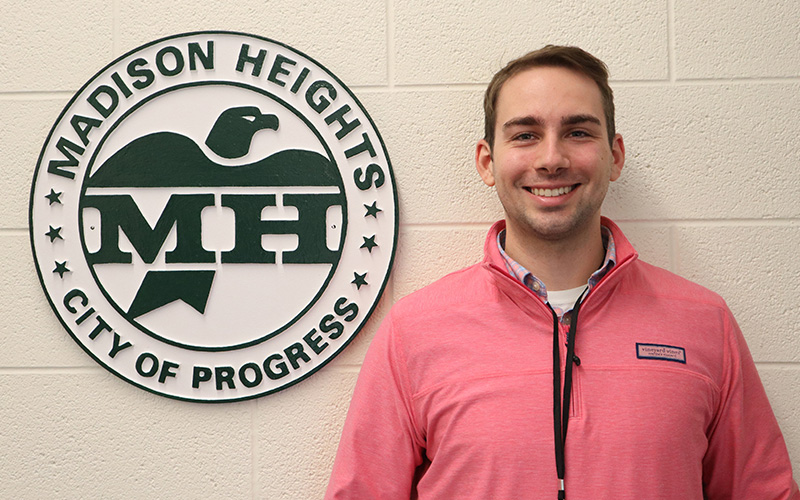 OCC Alum Adam Owczarzak
OCC Alum Adam Owczarzak takes time out to share his story while making an impact on others' lives.
When Adam Owczarzak got involved in OCC's Student Government, little did he know that it would lead to a career path and land a job as Assistant to the City Manager in Madison Heights just a few years later.
Owczarzak first learned about Student Government while sitting in Jeff Farah's political science class. He ended up serving as public relations chair and was part of the group's team that finished in the top 10 in a national campus competition called "Up to Us."
That competition gave Owczarzak his first taste of advocating for public policy change. Owczarzak and his classmates were tasked with raising awareness about America's fiscal challenges. The team filled balloons with money and released them outside the Auburn Hills campus cafeteria. The free money caught the attention of students and resulted in more than 500 students across all OCC campuses signing a pledge to become more aware about our national debt and understand how students' economic futures could be affected.
"OCC is what you make of it," said Owczarzak, who received an Associate Degree in General Studies and an Associate Degree in Business Administration in 2017. "A lot is offered and if you take advantage of the opportunities, a lot can be gained from it."
The 24-year-old OCC graduate transferred to Oakland University (OU) and earned both a Bachelor and Master's degrees in Public Administration and minored in Communications. While at OU, he continued his public policy advocacy and became involved with the International City/County Management Association (ICMA) Student Chapter and served as president 2019-2021.
Owczarzak gained additional knowledge about local government outside the classroom through internships at the City Manager's Office in Huntington Woods and at the Oakland County Elections Division. He also worked in the City of Troy as a building supervisor and office assistant in the Clerk's Office.
Eight months into the pandemic, Owczarzak received a graduate management fellow internship at Madison Heights in November 2020 and within four months moved into his current role. During his graduate internship, Owczarzak completed two impressive projects as a project manager. One entailed constructing a children's play area with seating for parents at the library and enhancing the building with a variety of paintings. The other project – a neighborhood enhancement program funded through the Michigan State Housing Development Authority – rehabilitated four homes for low-income residents.
"In my opinion, public service is the best way to give back and impact people's lives. Even small things day to day can help change someone's life," shared Owczarzak.
OCC Financial Aid Officer Jessica Lizardi, who served as the College's Student Government co-advisor with Farrah, said she is proud of Owczarzak's accomplishments. She described him as an "astute team player with a strong dedication to diversity and inclusion."
According to Lizardi, one of the projects Owczarzak led was a student leadership survey, which was developed and administered on Survey Monkey. The survey was provided to OCC's Board of Trustees and was used to help gauge the student pulse and impact initiatives for the coming year.
"It was such a forward thinking project at the time, and we were so excited to collect and use the results," she said. "Adam also led the group's efforts for the PJs for Patrick event, which raised scholarship funds for suicide awareness and helped the Patrick R. Baldwin memorial scholarship reach endowment."
"I believe Adam will do great things in his future, and I am honored to have been a small part of his journey," she added. "We all are."
Media Contact: Marketing & Communications | 248.341.2020 | contactus@oaklandcc.edu