What does it mean to go beyond expectations? It's not defined by high pressure and perfection but adopting a growth mindset, overcoming obstacles and aiming for personal bests with optimism and hope.
OCC instructors and counselors shined a light on this in their remarks about their students who have overcome significant challenges to reach success. Things like balancing their studies as single parents, working full-time or multiple jobs while taking classes, and working to change career paths. The strong and inspirational relationships that form between students and faculty were also highlighted, often punctuated with laughs, hugs and even happy tears.
Awards celebrate respect and inspiration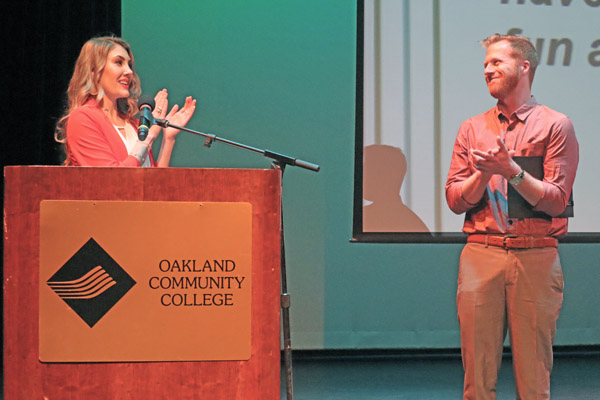 Spanish faculty Lindsey Mattson talks about why student Derek Petersen deserves the Outstanding Student Award during the Outstanding Student and Faculty Recognition Ceremony.
More than 30 outstanding students were recognized for their outstanding achievements while seven faculty members received the inaugural OCC Teaching Excellence Awards. The Outstanding Student Recognition Awards are not new to OCC, but the April 27 event at OCC's Smith Theatre on the College's Orchard Ridge campus marked the first time the ceremony has been held in-person since before the pandemic.
"Each of the Outstanding Student honorees was nominated by an instructor for their demonstrated academic excellence, leadership, teamwork, determination or compassion beyond expectations," said OCC Chancellor Peter Provenzano. "These student and faculty awards clearly demonstrate OCC's commitment to empowering our students to succeed."
Provost Jennifer Berne, who serves as the College's chief academic officer, shared more than 90 OCC faculty were nominated by students, faculty and staff in several areas of teaching excellence. Instructors were recognized for their subject matter expertise, use of effective and innovative teaching techniques, student success empowerment, and advancement of diversity, equity, inclusion, and justice.
Thanks to a donation from the Meemic Foundation, a total cash prize of $1,000 will be divided among Teaching Excellence Award recipients.
Event honorees
"Amber (Mann) has done outstanding work in her classes and her life," said Adjunct Counselor Julie Carlson. "She realized the opportunity in the Michigan Reconnect program, so she jumped right in and figured out how to be successful."
The sum of all that we do here at OCC is interdependent on so many different things, said Jeff Parent, Math faculty.
"The wonderful staff, great administrators and collaborative faculty and, of course, we wouldn't be anywhere without our wonderful students."
These are some of the insights and remarks shared about each nominee as students and faculty stepped forward to accept their awards. During the event, the OCC Libraries also recognized Outstanding Research Paper Competition winners. The event photos can be viewed on Flickr.
Outstanding Students:
Tala Almaoued

Jamee Arseneault

Aliyah Ashe

Thomas Bullen

Claudia Davis

Ashley Elsey

Calvin Fetzek

Lena Garmo

Gregory Griggs

Chelsea Lackey

Emily LaDuke

Brandy Lindsey

Megan Loebl

Amber Mann

Victoria Moore

Sydney Mullen

Hope Pacheco

Karissa Page

Derek Petersen

Doniqua Roberts

Kimberly Storks
Lily Stottlemyer
Patrick Strand
Kathleen Vetch
Shane Walker
Marie Weiberg
Lynn Williams
Emily Yatooma
 Outstanding Research Paper Competition Winners:
Elizabeth C.W. Bock:

first place

Therese Yarbrough:

second place

Della Hall, Caitlyn Stock, Lauryn Thomas, Adriane Watson:

honorable mention
Teaching Excellence Award
Cheryl Decker

, Psychology

Ashraf Hassaballa

, Biology

Rob Kangas

, Photography

Eden Konja

, Computer Information Systems

Jennifer Little

, Theatre

Ryan Pacheco

, Physics

Sarah Pile

, Emergency Medical Services

About OCC 

Oakland Community College offers nearly 100 degrees and certificates programs with the resources students need to be successful and advance our community. As a top transfer institution, OCC offers one of the state's most affordable tuition rates and flexibility in scheduling with face-to-face and online options. The College is nationally recognized for its high-demand career training with expert faculty in their fields. More than 1 million students have enrolled in the College since it opened in 1965. Learn more at  oaklandcc.edu.  

###

Media Contact: Marketing & Communications | 248.341.2020| contactus@oaklandcc.edu