When it comes to creating student life on campus, Heidi Renton and Brenda Lowery envision a place where students can connect, engage and collaborate.
That's the goal of OCC's two new student engagement coordinators – and long-time veterans of OCC.
"We are trying to breathe life back into campus after COVID and get students who are coming to class to be part of an organization or maybe start a new group," Renton said. "We know students who are active in extracurricular activities do better and stay engaged."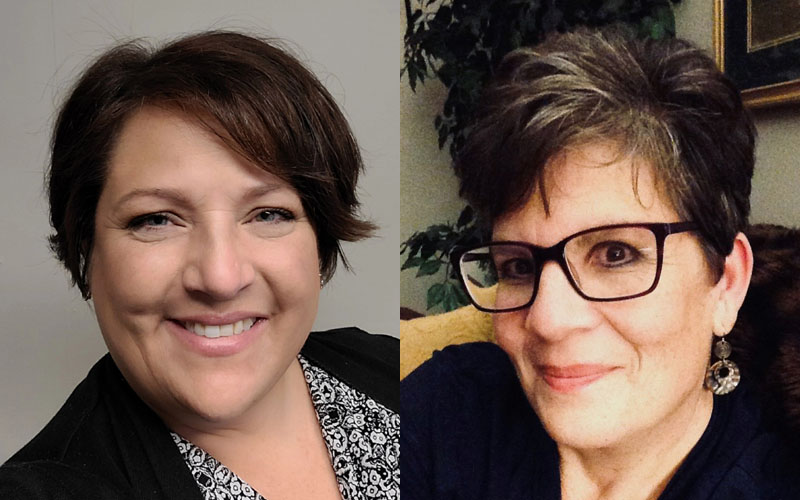 Heidi Renton (l) and Brenda Lowery
As student engagement coordinators, Renton and Lowery plan and develop student engagement activities and programming, collaborating with the College's Student Services deans and associate deans. In this role, they also serve in an advisory capacity for Student Government, Phi Theta Kappa, Peer Mentoring Program and other recognized student organizations.
The new coordinators launched the Winter semester hosting a Zoom Welcome Back Event for students where they learned about the many services and clubs at OCC.
Lowery said students are looking for ways they can interact with one another on campus.
"I had a young lady who I talked to about starting a student group. I explained to her that she would need five people to start it," she said. "She came back with a sheet signed by 16 people!"
Connecting students to service, leadership and friendships outside the classroom
Lowery and Renton are working hard to engage with more students on campus and introduce them to the refreshed Student Life Centers as they open on campus. The centers are a place where students can gather to socialize, study, connect to resources and hold student organization meetings. The newly renovated Auburn Hills Student Life Center is expected to open by April 2022; Student Life Centers on other campuses are also getting updates before opening.
"The most important thing is to make sure our students know there is a place for them on campus to go to for help, meet friends and feel a part of something, like an organization," Renton said. "We want them to come, take classes and experience more through student life. It's all part of the college experience and, with deeper connections, these students are often our most successful at OCC."
Aligning passion and experiences in a 2.0 career
The student engagement coordinator positions are new at OCC, but Renton and Lowery are familiar faces on campuses.
For nearly 30 years, Renton worked at all of OCC's campus bookstores except for Orchard Ridge. She began as a student employee in 1990 and worked her way up to bookstore manager in 2003 at Auburn Hills. Lowery, meanwhile, worked as the bookstore manager at Orchard Ridge since 1999.
"What makes Brenda and Heidi uniquely suited for these jobs is their years of experience at OCC," said Robert Spann, Dean of Student Services at Orchard Ridge. "They know the history and resources and know how students can engage. We have seen them in action, and it brings about excitement."
Jahquan Hawkins, Dean of Student Services at Auburn Hills, agreed.
"You have to have a certain temperament to work with students," Hawkins said. "Brenda and Heidi have a track record working well with students. I can only image their presence in Student Services will be a big draw for our students."
Read more about Student Life at OCC.
About OCC
Offering nearly 100 degrees and certificates, OCC is Michigan's largest multi-campus community college and No. 1 transfer institution in the state. The College provides academic, career training and enriching experiences, designed to empower students to reach their potential and enhance our community. More than 1 million students have enrolled in the College since it opened in 1965. A seven-person Board of Trustees governs OCC. Board members are elected on a non-partisan, at-large basis, serve as volunteers and are not paid. Mission statement: OCC is committed to empowering our students to succeed and advancing our community. Learn more at  oaklandcc.edu.
###
Media Contact: OCC Marketing & Communications | 248.341.2020 | contactus@oaklandcc.edu