Employees and sponsors help students in crisis
An OCC student no longer has to worry about sleeping in her car after receiving assistance through the Student Success Fund.
The student, whose name is protected for privacy reasons, experienced an unexpected financial hardship and feared she would have to sleep in her car – a place where she spent many nights when she was in high school. Instead, she received assistance through the Student Success Fund and was able to stay in a hotel with her dog until she could get a lease for an apartment. She is currently taking courses towards Computer-Aided Design and Associate of Science degrees.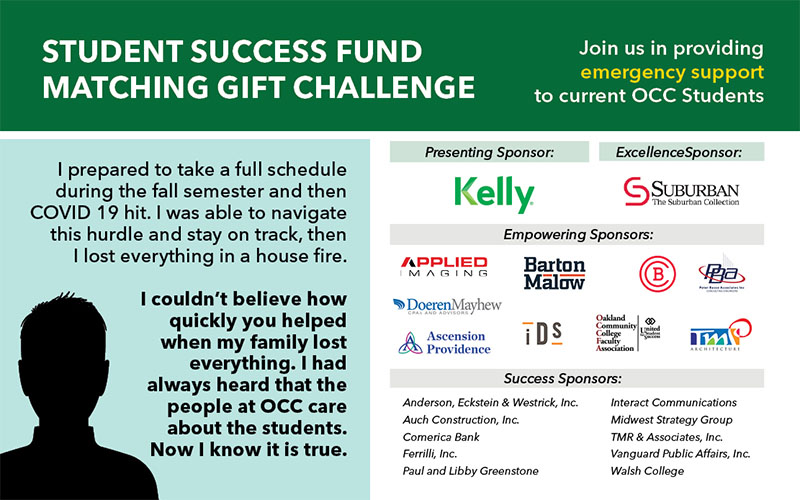 Thanks to the generosity of OCC employees, retirees, alumni and community sponsors, the OCC Foundation raised $96,530 during the fall's Matching Gift Challenge to help students in crisis. Twenty OCC business and community partners committed $44,000 as a dollar-for-dollar match. Donors also responded generously, giving $52,530 to the OCC Foundation for the Student Success Fund.
Vice Chancellor for Advancement Daniel J. Jenuwine said the Student Success Fund is designed to quickly help students who are in the middle of a crises so they don't drop out of school.
"The consequences of a student dropping out are enormous and long lasting," he said. "For donors to be able to step in at a moment when a student is perhaps facing their greatest challenge and help them stay on track is incredibly powerful. In the future, these students could be our nurses who will take care of us. They could be the people who repair our cars, or our doctors or accountants. We're serving the community by making sure they don't get off track because they had a moment of crisis."
About 140 people donated to the Matching Gift Challenge, which surpassed its goal of $88,000. Darlene Johnson-Bignotti, library faculty at the Royal Oak campus, is among those who contributed.
"If you've never been on the 'struggle bus,' you have no idea how a small amount of money can detour a path to an education," Johnson-Bignotti said. "I lost my campus job during my last semester of college due to budget cuts. I couldn't work off campus because I didn't have a car. Without an emergency grant, I likely would have dropped out two months short of a degree. I didn't have to repay the money, but I view my contribution to OCC's fund as paying it forward and as a return on an investment that someone made in me many years ago."
The COVID-19 pandemic has compounded the need for emergency support, as many students have lost their jobs and are facing unprecedented challenges. Other types of crisis students have experienced include:
A mother with two children was about to have her electric and heat shut off after she fell behind on her utility payments. The Student Success Fund provided money to pay the amount owed and assisted with establishing a payment plan for future billing.
A student who uses a wheelchair only had three sessions left in the semester when she lost her transportation and couldn't get to OCC to finish her classes and take the final exam. The student was going to drop the class but with the help the Student Success Fund, the student was able to finish the semester. Funds paid for a wheelchair accessible van to transport the student to OCC.
Business and community sponsors of the Matching Gift Challenge played a key role in helping students in crisis. Presenting Sponsor Kelly, a longtime OCC supporter, is among them.
"Kelly is proud to step up and support Oakland Community College students facing crises that could jeopardize their education," said Peter Quigley, President and CEO of Kelly. "Ensuring these students can complete their higher education has a direct impact on the talent pipeline in our region and the ability of local business to grow and thrive in the future. As a community, we all win when business and higher-ed institutions collaborate for better educational attainment and workforce preparedness."
More than 50 students have received financial assistance since the fund was relaunched in 2018. If you are interested in making a donation to the Student Success Fund, visit https://www.oaklandcc.edu/foundation/make_donations.aspx.
"Thank you for donating to this fund," said the student helped to prevent homelessness. "I hope in the future it can help someone else in a similar situation who really needs a boost to get through a hard time."
About OCC
Offering nearly 100 degrees and certificates, OCC is Michigan's largest multi-campus community college and No. 1 transfer institution in the state. The College provides academic, career training and enriching experiences, designed to empower students to reach their potential and enhance our community. More than 1 million students have enrolled in the College since it opened in 1965. A seven-person Board of Trustees governs OCC. Board members are elected on a non-partisan, at-large basis, serve as volunteers and are not paid. Mission statement: OCC is committed to empowering our students to succeed and advancing our community. Learn more at oaklandcc.edu.
###
Media Contact: Marketing & Communications | 248.341.2020 | contactus@oaklandcc.edu