As Feb. 12th's Big Game approaches, party hosts are putting together their menu and asking friends to bring a dish to pass. That usually means there will be plenty of standard snacks like nacho dip and chips, mozzarella sticks and, of course, pizza.
Yet there are ways to add some healthy alternatives to the Big Game food table without sacrificing the taste.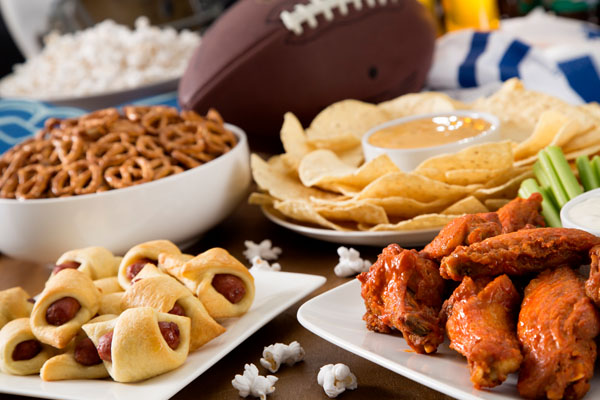 "This is the first year since the pandemic hit where party hosts will be having a house full of friends and family to watch the game," said Dawnmarie Yelcho, OCC's Executive Director of Culinary and Hospitality. "That also means that many people will revert to the standard big-game fare that is tasty but not always the healthiest. However, by using recipes that feature leaner cuts of meats and healthy ingredients for snacks and dips, this year's party food can be both healthy and tasty – and that's a winning recipe for all guests."
And with more guests getting into vegetarian, vegan and gluten free life-styles, it makes sense to offer additional snacks that appeal to them and might even get raves reviews from the typical non-healthy eater.
Healthy and Tasty
By making protein-based choices and revamped dips with healthy crackers, Big Game party hosts can up their game with cuisine to appeal to everyone, whether they are trying to eat healthy or not.
"Two great protein-based recipes I like to make are French Onion Sliders using ground chicken and turkey instead of hamburger, and Beef Wraps made with a leaner cut of beef like tri-tip or brisket to provide lots of protein without all the calories and fat," Yelcho said.
Of course chips and crackers with dips are a mainstay at any football party, but there are lots of healthy options to replace high-calorie ranch or cheese dips.
"A White Bean dip or Tzatziki sauce served with vegetables or healthy crackers for dipping provides a great tasting, lower fat alternative to the typical party dips," Yelcho said.
"Many people have the perception that healthy recipes aren't tasty, but that just isn't true anymore," she added. "Offering these healthier alternatives for the Big Game party will have your guests asking for your recipes!"
(SEE RECIPES BELOW)
Big Game Healthy Recipes
Recipes by Dawnmarie Chmiel-Yelcho, OCC Culinary and Hospitality
French Onion Sliders
Makes 10 sandwiches, 5 servings
Ingredients
2t Olive oil

1 Large sweet onion julienned

½ Pound ground chicken

½ Pound 99% lean turkey

2T Worcestershire sauce

1 pkg of French onion dip mix

¼ cup chopped parsley

salt and pepper to taste
Vessels and Toppings: (Optional)
12 Whole wheat slider buns, wraps or lettuce leaves

3- 1oz slices of low-fat Havarti cheese sliced and quartered

Pickles, tomatoes, avocado, Dijon mustard or any favorites!!!



Sauté onions in the olive oil till caramelized; then remove from heat and completely cool. Next in a large bowl mix all remaining ingredients, with the cooled onions, (excepted toppings) combine well and form into 10 small sliders (about 2 oz ea.). Grill to about medium, top with cheese, toast buns and serve with favorite toppings!
Nutrition:
2 sliders:
Calories 304, Fat 8g, Sat Fat 2g, Carbs 31g, Fiber 4g, Protein 25g, Na 519g
Italian Beef Wraps
Makes about 15 half sandwiches
Ingredients
Just the Beef:
1 t kosher salt

2 t dried oregano

2 t dried thyme

3.5-4# beef brisket flat cut or tri-tip

1 cup dry red wine

4 medium Vidalia onions, julienned; divided

1 medium yellow pepper, julienned

6 garlic cloves, crushed and peeled; divided

1 T extra-virgin olive oil, divided
Vessels and Toppings: (Optional)
¼ cup Sharp cheddar cheese

¼ cup 2% cheddar cheese

Lettuce

Tomatoes

Raw Onions

Vignette of Choice

GF or Regular Sub Buns, Lettuce leaf, or lavish wraps can all be used to meet any dietary needs.
Mix together salt, dried oregano, and dried thyme in a small bowl. Rub the spice mixture all over the beef, and put the meat in a large re-sealable bag. Combine wine, ½ sliced onions and ½ of the garlic and pour this marinade over the meat. Seal tightly and let marinate in the refrigerator for 4 hours to overnight (overnight is best).
When ready, preheat Crock pot to high. Heat a sauté pan and pour the ½ the oil into pan heat and add meat and sear on both sides, until meat is nicely seared. Then deglaze pan with the left-over marinade mixture, cook until all the meat from searing has been lifted from the pan. Place meat in crock pot, and pour heated marinade back over the meat; cook on high for an hour and turn to low cook for 7-8 hours or until tender.
Pull out and let rest in shallow pan and rest for 15-20 minutes before slicing, reserving the cooking juices in the pan.
Meanwhile, heat the remaining ½ T olive oil in a large skillet, and toss in the remaining onions, peppers and garlic. Sauté until the vegetables begin to soften, about 4 minutes. Season with the s/p.
Slice the meat, against the grain, as thinly as possible. When the vegetables are tender, add the sliced meat to the skillet, along with any juices left in the roasting pan. Cook until the meat is just heated through, about 3 or 4 minutes.
To make sandwiches, heat wraps or buns till warm. Top with meat, vegetables, and cheese build sandwich, wrap or forget the vessel and top a salad or just eat as is!!
Nutrition: ½ sandwich (may vary depending on toppings)
Calories 192, Carbs 14g, Fat 4.9g, Protein 2g, Fiber 4.5g, Cholesterol 38g
Tzatziki
Serving Size 1/4 cup Tzatziki, Serves 10
Tip: Use as a salad dressing, dip for crudités or spread for sandwiches
Ingredients
1 pint 0% Greek yogurt

3 garlic cloves, mashed to a paste

2 T olive oil

1 tablespoon red wine vinegar

1 tablespoon minced fresh dill (optional)

Salt and pepper to taste

1 English cucumber, peeled, grated on a box grater, salted lightly for 5 minutes, squeeze between hands to remove any extra liquid from cucumber.
Mix everything except the cucumbers together until it is all blended and the oil has emulsified into the yogurt. Taste for seasoning and add salt, if desired. Then fold the cucumbers into the mixture. Put in a resalable container.
Allow to rest in the refrigerator for at least 2-3 hours before using to allow the flavors to come out.
Nutrition:
Calories71, total fat 5g, saturated Fat 1.4g, Trans Fat 0g Polyunsaturated Fat 0.5g, Monounsaturated Fat 2.9g, Cholesterol 5.6mg, Sodium 121.7mg, Total Carbohydrate 3g, Dietary Fiber 0.2g, Sugars 2.3g, Protein 4.1g.
White Bean Dip
Makes 2 cups (serving size: 1 tablespoon)
Tip: Make dip up to 2 days ahead. Store dip in an airtight container in the refrigerator. Bring dip to room temperature before serving.
Ingredients
2 cloves garlic, peeled and minced

¼ cup olive oil, divided

2 cans (15 oz each) white beans (Great Northern, cannellini, or white kidney beans), drained and rinsed

2 tablespoons fresh lemon juice

2 teaspoons kosher salt

1 teaspoon dried rosemary or 2teaspoons fresh rosemary, minced.
Add garlic and oil into food processor and blend

Then add all other ingredients and blend till smooth

Place in airtight container for up to 5 days

Serve with vegetables, cheese crisps, whole grain crackers.
Nutritional Content:
Amount per serving: Calories: 47, Protein: 1.9g, Fat: 1.8g, Saturated fat: 0.2g, Carbohydrate: 6g, Fiber: 1.3g
About OCC  
Oakland Community College offers nearly 100 degrees and certificates programs with the resources students need to be successful and advance our community. As a top transfer institution, OCC offers one of the state's most affordable tuition rates and flexibility in scheduling with face-to-face and online options. The College is nationally recognized for its high-demand career training with expert faculty in their fields. More than 1 million students have enrolled in the College since it opened in 1965. Learn more at oaklandcc.edu.
### 
 Media Contact: Marketing & Communications | 248.341.2020 | contactus@oaklandcc.edu