Tala Alahmar's Speech Given Top Honors by Phi Theta Kappa Honor Society
"I remember being asked when I was I was in sixth grade, 'What do you want to be when you grow up?'" So begins the speech that earned OCC student Tala Alahmar a spot as one of four national finalists in the 2020 Phi Theta Kappa (PTK) Virtual Speech Competition. PTK is the official honor society for two-year colleges and boasts more than 3.5 million members in the United States and 10 sovereign nations.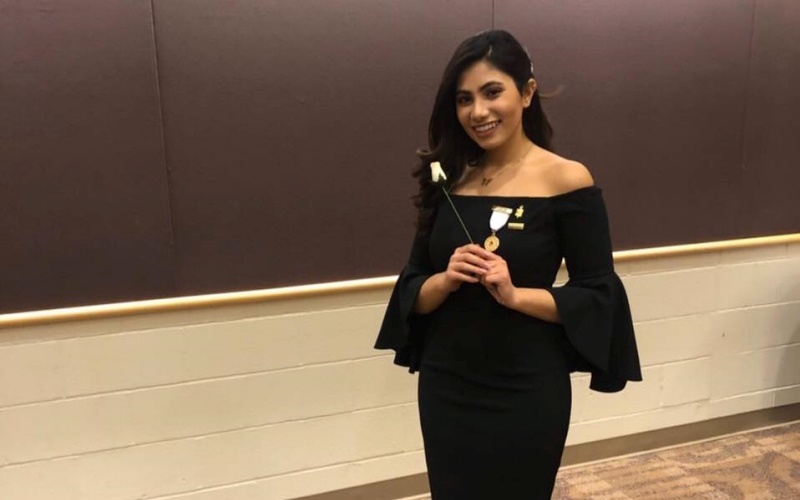 Tala Alahmar
Alahmar's journey to the finals started earlier this year with her entry to the Michigan Speech Committee. The committee selected her to represent Michigan's 31 chapters across the state at a competition typically held during PTK's annual Catalyst Convention, which was cancelled due to the Coronavirus. In lieu of a live presentation, the students competed virtually with a video of their speech.
"Answering the question 'How has Phi Theta Kappa membership helped prepare you for your career?' was a great topic for me because I believe so thoroughly in the value of being a member of PTK," said Alahmar, who attended classes at OCC's Auburn Hills campus before going online.
She credits OCC faculty member Mary Moon with helping her hone the public speaking skills that landed her a berth in the finals.
"OCC's Fundamentals of Speech class helped me gain confidence and develop a love for public speaking. Mary Moon provided me with a set of tips to help me become a more organized, comfortable and credible public speaker. I recommend the class to every OCC student."
Alahmar serves as a supplemental instruction leader for the class, and holds sessions with students interested in extra help before class. She was also elected President of the Michigan Region for the 2020 – 2021 academic year. She plans to transfer to University of Michigan and study International Relations after she completes her PTK duties.
PTK members voted online and Alahmar secured a $250 award for her national placement. Saniya Syed from the Texas Region was awarded $500 grand prize. According to Alahmar, each speech had an emotional, personal story to share about how PTK helped them achieve and is valuable to hear.
Offering nearly 100 degrees and certificates, OCC is Michigan's largest multi-campus community college and No. 1 transfer institution in the state. The College provides academic, career training and enriching experiences, designed to empower students to reach their potential and enhance our community. More than 1 million students have enrolled in the College since it opened in 1965. A seven-person Board of Trustees governs OCC. Board members are elected on a non-partisan, at-large basis, serve as volunteers and are not paid. Mission statement: OCC is committed to empowering our students to succeed and advancing our community. Learn more at oaklandcc.edu.
###
Media Contact: OCC Marketing & Communications | 248.341.2020 | contactus@oaklandcc.edu