A view to the universe with new and exciting discoveries just became reality for Oakland Community College astronomy students. OCC, which is part of the NASA Community College Network, is one of 25 community colleges across the country and the only community college in Michigan to receive an eVscope, an easy to use and powerful telescope with image enhancement capabilities. It provides access to 200 times more targets than conventional telescopes including galaxies, nebulae and supernovae.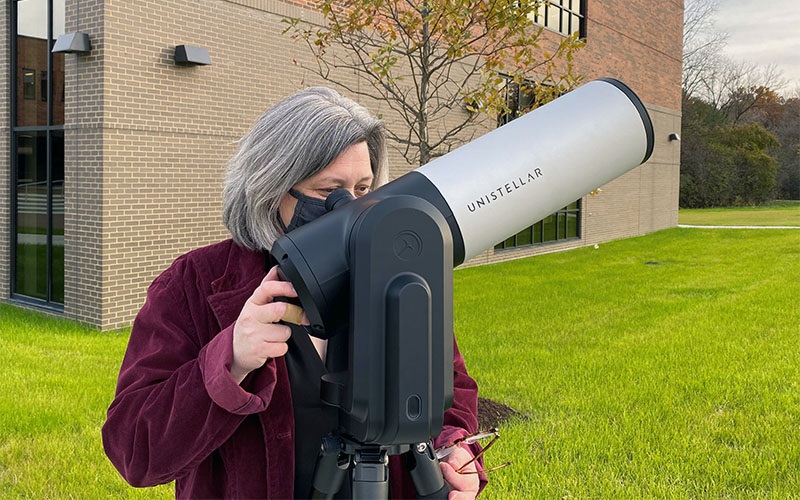 JoDee Baker, professor of Physics and Astronomy, tests the new eVscope telescope
Thanks to a financial grant from the Gordon and Betty Moore Foundation and the SETI Institute, Unistellar is providing eVscope telescopes, training workshops for students and educators and network collaboration opportunities to the selected community colleges, including OCC.
JoDee Baker, professor of Physics and Astronomy at OCC, says community colleges normally do not have the resources to provide such an expensive telescope.
"This is such an incredible gift for the college. It will allow our students to make observations never seen in this city environment and conduct research by looking at the night sky even in light-polluted environments."
Baker says the eVscope is portable, allowing students to take it outside for observation and is easy to operate.
"Up to ten cell phones can be used to access the images from the eVscope using an app," Baker said. "Students connect to the telescope with their own mobile devices and are able to save their own images and share them widely."
She hopes to begin exploration with the telescope this semester for astronomy students and plans to be fully operational by next semester.
"We are fortunate to be part of the NASA Community College Network that allows us to bring cutting-edge NASA space science right here in our local community," Baker added.
###
About the SETI Institute
Founded in 1984, the SETI Institute is a non-profit, multidisciplinary research and education organization whose mission is to lead humanity's quest to understand the origins and prevalence of life and intelligence in the universe and share that knowledge with the world. Our research encompasses the physical and biological sciences and leverages expertise in data analytics, machine learning and advanced signal detection technologies. The SETI Institute is a distinguished research partner for industry, academia and government agencies, including NASA and NSF.
About the Gordon and Betty Moore Foundation
Gordon and Betty Moore established the foundation to create positive outcomes for future generations. In pursuit of that vision, we foster path-breaking scientific discovery, environmental conservation, patient care improvements and preservation of the special character of the San Francisco Bay Area.
About Unistellar
Unistellar is the start-up behind the eVscope 2 and the eVscope eQuinox, the world's most powerful and simple-to-operate digital telescopes that bring the wonders of the universe to life in seconds—even in light- polluted urban settings. Thanks to a partnership with the SETI Institute, these game-changing consumer telescopes allow users to become citizen scientists and contribute to cutting-edge research on exoplanet transits, asteroid occultations, comets, and much more.
About OCC
Offering nearly 100 degrees and certificates, OCC is Michigan's largest multi-campus community college and No. 1 transfer institution in the state. The College provides academic, career training and enriching experiences, designed to empower students to reach their potential and enhance our community. More than 1 million students have enrolled in the College since it opened in 1965. A seven-person Board of Trustees governs OCC. Board members are elected on a non-partisan, at-large basis, serve as volunteers and are not paid. Mission statement: OCC is committed to empowering our students to succeed and advancing our community. Learn more at oaklandcc.edu.
Media Contact: Marketing & Communications | 248.341.2020 | contactus@oaklandcc.edu