"The Play That Goes Wrong" has been delighting and amusing audiences across the globe. A hilarious hybrid of Monty Python and Sherlock Holmes, the play won Best New Comedy at the 2015 Laurence Olivier Awards.
The curtain rises this month to local audiences at Oakland Community College's Smith Theatre on the College's Orchard Ridge campus in Farmington Hills. Performances will be held March 16, 17, 23 and 24at 7:30 p.m. Tickets are $10 for general admission, $5 for seniors and students, and free for OCC students, employees and alumni.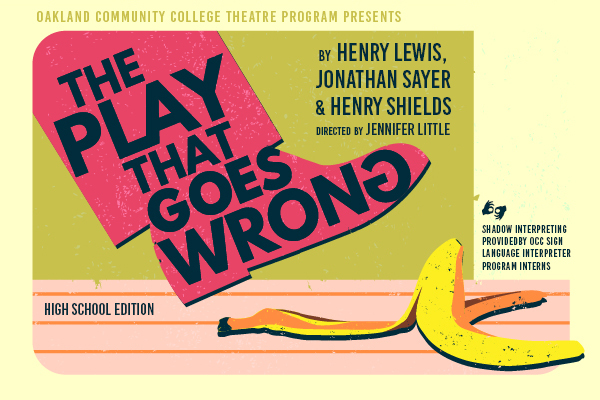 The OCC production
The play, produced in partnership with OCC's Theatre and Sign Language Interpreter programs, is led by OCC Theatre Instructor Jennifer Little, a former Broadway actor who spent five years performing as Carlotta in "Phantom of the Opera."
The performance will feature the high school edition to address content challenges in the original script and provide options to accommodate a variety of casting needs. Little explains the high school version of the show allows students to tackle a farce, which was important to them.
"Why a farce? The idea of doing a farce after doing a psychological drama (last fall) was important to the students – levity balancing out our intense dive into the mental gymnastics of "Dr. Jekyll and Mr. Hyde."
Little said farce requires actors to perform large, outrageous acting choices, while still staying honest and true to the characters. "It is another learning opportunity for our wonderful OCC students."
OCC Theatre student Tessa Gibson of Waterford, who plays Sandra, expressed excitement and appreciation to be a part of the production.
"I was in the past two productions with the program and I was so excited to be a part of this one," she says.  "This show has been so fun to be a part of. I love the rehearsal process, and I feel I can finally show all the hard work I've been doing."
A partnership between OCC's Theatre and Sign Language Interpreter programs 
Gibson is one of sixteen cast members, including five American Sign Language (ASL) student shadow interpreters who have joined the show as part of a supervised clinical experience partnership between OCC's Theatre and Sign Language Interpreter programs.  
The ASL students have been guided by experienced hearing and deaf interpreters, who are also experienced performers. In preparation for and through these performances, the interpreters have provided these students with supervision, mentoring and language modeling. The supervision is key to their success and follows the requirements of the State of Michigan Deaf Person's Interpreter Act and the Memo of Understanding between the Michigan Division on Deaf, DeafBlind, and Hard of Hearing and the Michigan Interpreter Education Programs. 
About the comedy
Welcome to opening night of The Murder at Haversham Manor where things are quickly going from bad to utterly disastrous. With an unconscious leading lady, a corpse that can't play dead, and actors who trip over everything (including their lines), it's a hilarious farce of misadventures and missteps. Nevertheless, the accident-prone thespians battle against all odds to make it through to their final curtain call, with hilarious consequences!
For ticket information visit eventbrite.
###
About OCC
Offering nearly 100 degrees and certificates, OCC is Michigan's largest multi-campus community college and No. 1 transfer institution in the state. The College provides academic, career training and enriching experiences, designed to empower students to reach their potential and enhance our community. More than 1 million students have enrolled in the College since it opened in 1965. A seven-person Board of Trustees governs OCC. Board members are elected on a non-partisan, at-large basis, serve as volunteers and are not paid. Mission statement: OCC is committed to empowering our students to succeed and advancing our community. Learn more at oaklandcc.edu.
Media Contact: Marketing & Communications | 248.341.2020 | contactus@oaklandcc.edu