Due to illness and an over-abundance of caution, the Dec. 9 and 10 performance of "You Make My Frame Shake" is postponed until Winter semester. A new date will be announced in January. Stay tuned!
New Theatre Director says Show has "Something for Everyone"
What do you get when you combine artwork that comes to life and a former Broadway actor? OCC's Fall theatre production with a new director at the helm.
After nearly two years of the lights out at the Smith Theatre, LIVE shows return in December with "You Make My Frame Shake," a comedy directed by OCC's new Theatre Instructor Jennifer Little. Little is a Broadway actor who spent five years starring as Carlotta in "Phantom of the Opera," and experienced instructor.
The light-hearted comedy is set in 2021 at the Metropolitan Museum of Art where the artwork has been enjoying the freedom to be alive and play without the worry of customers during the museum's one year closure due to COVID. Now, of course, customers are back and the artwork is adjusting (or not).
"'You Make My Frame Shake' is light-hearted, good natured and fun, and it really does celebrate the students here at OCC," Little said. "There's a little something for everybody in it."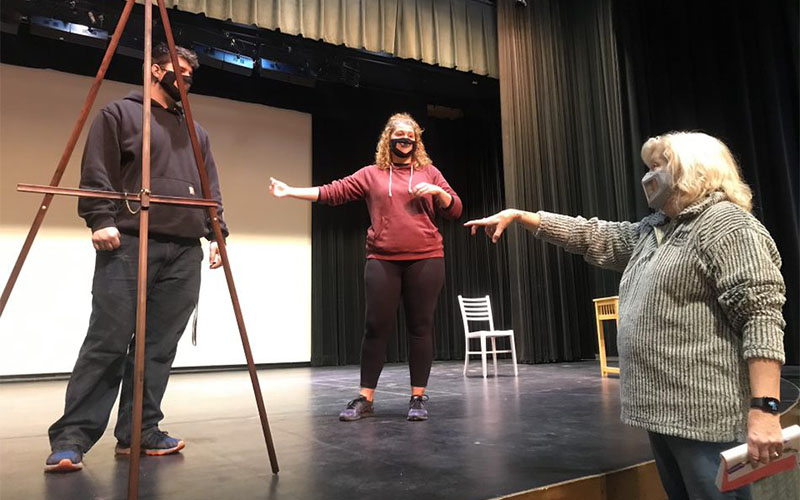 OCC Theatre Instructor Jennifer Little of Sterling Heights (far right) gives instructions to student actor Samson Hoover of West Bloomfield (left) during a rehearsal on Thursday, Nov. 18. American Sign Language student interpreter Jenny Evans of Waterford translates on stage.
For the first time, sign language performers will be integrated into an OCC theatre show through a collaboration with the College's American Sign Language Department.* And unlike performances in the past, this show will be performed by an all-student cast and crew.
"We are an educational institution, and I believe students should be on stage and in the spotlight," Little said. "That's why we are here. I'm very committed to making the productions all about the students."
With the unknowns of COVID and getting a late start as the director at OCC, Little kept the production simple and selected a play that could easily be switched to virtual if the pandemic shuttered the theatre's doors again. There won't be any fancy costumes or elaborate sets, but there will be plenty of actors and a crew dedicated to giving a top performance for the audience.
"We wanted to make sure whatever we did met students' expectations," Little said. "So many colleges were in the middle of production and had to walk out the door when the pandemic hit, and it was heart breaking."
About 15 students are in the cast as well as a student assistant director and student assistant stage manager.
Among them is Alexis Bobola, a 19-year-old from Wixom, who is playing the role of a love-struck Roman statue named Sophia. Appearing in her first OCC production, Bobola has performed as a featured dancer in "Cinderella" and "Fiddler on the Roof" at Walled Lake Western High School and acted with the school's Forensic Competitive Team.
"It was hard not performing during COVID," she said. "Now I can act with my classmates and be on stage before an audience. I will be performing with different age groups and people from everywhere, not just my hometown. It's very exciting."
Chichi Ukachukwu also is thrilled to be in the production.
"I want to learn everything that goes into a play from the directing to the set and the crew," the 21-year-old West Bloomfield resident said.
Tickets are on sale now through Eventbrite for the shows on Thursday, Dec. 9 and Friday, Dec. 10 at 7:30 p.m.
OCC's New Theatre Director

Little, who grew up in Michigan, has spent most of her life working as a professional actor. Her musical theatre career began in Germany where she was cast in "Phantom of the Opera," Stephen Sondheim productions of "Into the Woods" and "Sweeney Todd" as well as Kurt Weill productions. While in Europe, she met Tony Award winning director and producer Harold Prince, who suggested she go to New York, where she eventually ended up on Broadway performing in "Phantom of the Opera."
Once the pandemic hit, Little, who received her bachelor's degree in Opera Performance at San Hose State University, decided to leave her acting career and go back to school to teach theatre. After receiving her master's degree in Applied Theater from City University of New York, she taught as an adjunct professor and full-time faculty member at Odessa College in Texas.
She recently returned to Michigan, where her father, Robert Soutas-Little, taught mechanical engineering at Michigan State University for 35 years. She interviewed with several colleges for teaching jobs and felt OCC was the best fit for her.
"I am very interested to be part of a college where students are first and it's not a top-down environment," Little said. "Having been an adjunct instructor, there's a difference when students are involved. OCC seems to really want to work with students, listen to them and build programs that are best for students."
"I've been really impressed with students this fall. This felt like a renaissance semester for students. They are so engaged and ready to learn. It is exciting to be in the classroom and on stage with them."
* Interpretation for this production is provided by interpreting interns through a supervised clinical experience partnership between the OCC Theatre Program and the Sign Language Interpreter Program. Student supervision follows the requirements of the State of Michigan Deaf Person's Interpreter Act and the Memo of Understanding between the Michigan Division on Deaf, DeafBlind, and Hard of Hearing and the Michigan Interpreter Education Programs. Further, hearing and Deaf interpreters who are experienced performers provided supervision, mentoring, and language modeling to the students in preparation for and through these performances.
###
About OCC
Offering nearly 100 degrees and certificates, OCC is Michigan's largest multi-campus community college and No. 1 transfer institution in the state. The College provides academic, career training and enriching experiences, designed to empower students to reach their potential and enhance our community. More than 1 million students have enrolled in the College since it opened in 1965. A seven-person Board of Trustees governs OCC. Board members are elected on a non-partisan, at-large basis, serve as volunteers and are not paid. Mission statement: OCC is committed to empowering our students to succeed and advancing our community. Learn more at oaklandcc.edu.
Media Contact: Marketing & Communications | 248.341.2020 | contactus@oaklandcc.edu