Oakland Community College offers international experiences, education through Virtual Study Abroad and Virtual Exchange Classes
As Rachel Marcelli watched an Italian family make pesto in Siena, Italy as part of a Virtual Study Abroad class, it brought back memories of when she was a child watching her mom make the popular Italian dish.
In Italy, though, the parents and children worked together to make the pesto, along with side dishes and lemonade. The OCC student said it shows just how much Italians value family.
"In Italy, they slow down more and take time to cook and eat together," Marcelli said. "In America, we get lost in our fast pace life. My family works and does other things so we don't sit down and eat dinner together."
It's just one of many observations Marcelli made while enrolled in OCC's The Grand Tour: Exploring Italy's Regional Cultural Variation. The Virtual Study Abroad course examines Italy's rich cultural differences with readings, lectures, and discussions, along with live experiences and group projects with partners in Italy, including guided virtual tours of cultural sites and more.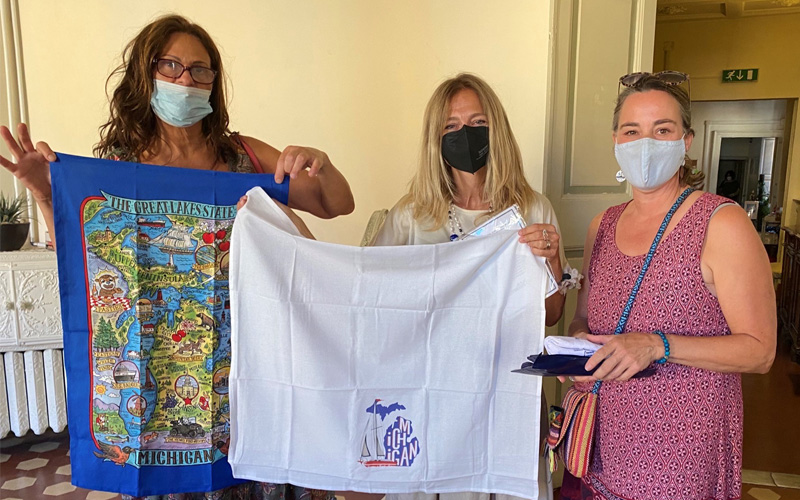 Italian teacher Ginevra Failoni (l), GEO Siena Silvia Minucci, and OCC Faculty Sarah Lemelin in Italy.
During the 15-week course, students got a little "taste" of Italy, thanks to ESL faculty member Sarah Lemelin, who teaches Italian and the Virtual Study Abroad class. She arranged for students to receive ricciarelli almond cookies and panforte Italian fruit cake after touring Lorenzo Rossi's bakery Panificio Il Magnifico. They also sampled olive oil from Cordioli Olive Oil, a family-run farm owned by tour guide Ceil Friedman, the author of Letters to Juliet.
"Through Virtual Study Abroad, students get to interact in real time," Lemelin said. "We saw the streetscape of beautiful, medieval Siena. Students were amazed at the medieval architecture and how stunningly different it is than walking down the streets here. They also enjoyed talking to people in their homes and getting a tour of a bakery. It was as if we were there those couple hours a day."
OCC also has offered Virtual Study Abroad courses in Spain and China. Director of Global Education Eleonora Bagatelia said the goal of the program is to build a cross cultural experience and give students the opportunity to look into the world beyond Michigan.
"The world is beautiful, welcoming, and diverse and waiting for them," she said. "We want students to know it's accessible. By introducing our students to different countries and regions, they can see the world is not as scary as they may think but interesting and worth exploring."
OCC's Virtual Study Abroad course to China intrigued student Dung Le, who would like to some day visit the country and see the Zhangjiajie National Forest Park where breathtaking sandstone spires are featured in the film "Avatar."
During the course, Le "traveled" to such big cities as Shanghai and Shenzhen and realized China is different than she imagined. Le, who lived in nearby Vietnam until 2015, was more familiar with China's villages, agriculture and farms. After the course, she learned China has made advances in technology and infrastructure with tall buildings, highways and subways.
"With Virtual Study Abroad, all you need is a phone or laptop and you can go around the world and learn about different cultures," Le said. "With one click, it's cheaper, faster and more convenient."
Virtual Exchange – Learning with Students in Different Countries
Imagine participating in a podcast about World War II with students in the Philippines or conducting research with students in Mexico about the U.S.-Mexico border crisis. The opportunities are plentiful in OCC's Virtual Exchange courses where students connect with peers in other countries and develop intercultural skills and new perspectives.
Working in small groups, students engage in collaborative work exploring, discussing and researching different topics that bring classroom learning to life.
OCC student Kimberly Myers-Pinkel enjoyed her Virtual Exchange courses so much that she recently became a certified virtual exchange facilitator through Soliya. She took two OCC courses where students interacted with other college students from Tunisia, Libya, England, France and Palestine.
"One of my main purposes in life is for people to be seen, heard and valued," she said. "I saw within this virtual exchange program there is a huge opportunity for people in different countries who have felt misunderstood to be seen, heard and valued. I jumped at the chance to have a small part in making that happen."
History and Social Science Faculty Tony Baracco said Virtual Exchange courses provide a resume building experience that will make OCC students competitive with job seekers from across the globe. Baracco has taught a dozen Virtual Exchange classes with educational institutions in Vietnam, Philippines, China and Mexico.
"This is preparing our students for what's out there when they leave OCC," he said. "Many car parts companies have factories in Monterey, Mexico and people are flying down there from Oakland County to work with their partners. Our students have worked with people in Monterey and have made connections."
Baracco has received positive feedback about the Virtual Exchange program from some of the College's partners, including Khanh Huyen, professor at Ho Chi Minh City University of Education in Vietnam.
"My students' feedback that this was a meaningful course not only promoting their own ability in teamwork, researching and skills, but also consolidating and broadening knowledge," she wrote in an email to Baracco. "Additionally, some of my students still keep in touch with your students via (social networking services)."
In the past OCC, students chose from more than 20 sections of Virtual Exchange classes in business, communication, criminal justice, early childhood education, economics, English, history, mathematics, music, nutrition, political science, and Spanish. Faculty are working on establishing new partnerships for the fall.
Learn more about OCC's Global Education programs.
###
About OCC
Offering nearly 100 degrees and certificates, OCC is Michigan's largest multi-campus community college and one of the top transfer institutions in the state. The College provides academic, career training and enriching experiences, designed to empower students to reach their potential and enhance our community. More than 1 million students have enrolled in the College since it opened in 1965. A seven-person Board of Trustees governs OCC. Board members are elected on a non-partisan, at-large basis, serve as volunteers and are not paid. Mission statement: OCC is committed to empowering our students to succeed and advancing our community. Learn more at oaklandcc.edu. 
 
Media Contact: Marketing & Communications | 248.341.2020 | contactus@oaklandcc.edu