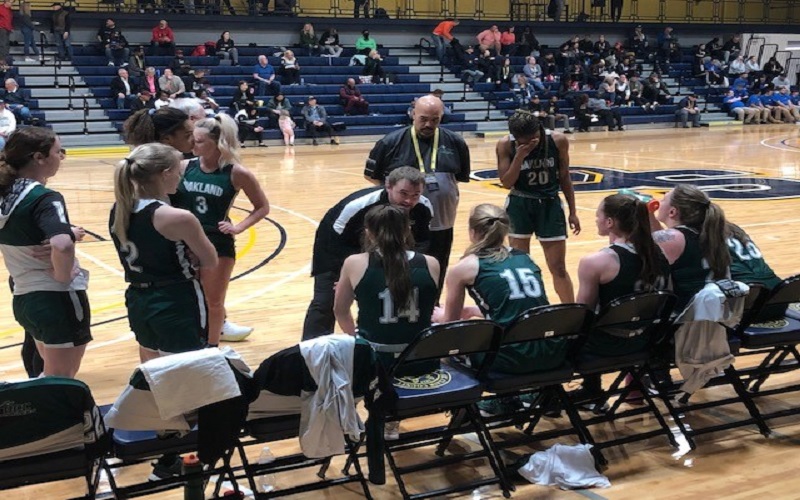 The OCC Women's Basketball team during a time out at the NJCAA National Tournament
For the first time in OCC history, the Women's basketball team qualified for the National Junior College Athletic Association (NJCAA) Division II Women's Basketball Tournament. The team won two and lost two games in the tournament, finishing eighth in the nation.
The national tournament took place in Port Huron, Mich. and the OCC Women's Basketball Team was seeded 14 in the tournament. The national tournament features a two-game elimination format and after losing their first game, the team was placed in a consolation bracket. The team won their next two games against Wake Technical Community College and Union County College before losing to Illinois Central College and placing eighth in the tournament.
To qualify for the national tournament, the women's team won the Great Lakes District B regional tournament, defeating both Schoolcraft College and Delta College along the way to the district championship, two teams they hadn't beaten during the regular season.
"The team came together and played their best basketball during both the District and National tournaments," said OCC athletic director Jamie Corona. "Coach Josh Lees and his team were able to do something no other OCC women's team has ever done. It is a great accomplishment."
Emma Delcotto, a guard on the team from Redford, said she had grown up watching the NCAA basketball tournament and this felt a lot like that big-time experience.
"The national tournament experience was great but I think winning the regional tournament and beating two teams like Schoolcraft and Delta that we didn't beat in the regular season was really emotional," Delcotto said. "No one gave us a chance to win the regional championship and even make it to the national tournament, so we really exceeded everyone's expectations."
For more information about OCC's Raiders Athletic teams, visit https://www.oaklandcc.edu/athletics/default.aspx.
About OCC 
Offering nearly 100 degrees and certificates, OCC is Michigan's largest multi-campus community college and No. 1 transfer institution in the state. The College provides academic, career training and enriching experiences, designed to empower students to reach their potential and enhance our community. More than 1 million students have enrolled in the College since it opened in 1965. A seven-person Board of Trustees governs OCC. Board members are elected on a non-partisan, at-large basis, serve as volunteers and are not paid. Mission statement: OCC is committed to empowering our students to succeed and advancing our community. Learn more at oaklandcc.edu. 
Media Contact: Marketing & Communications | 248.341.2020| contactus@oaklandcc.edu