A Message from the Chancellor
Welcome to Oakland Community College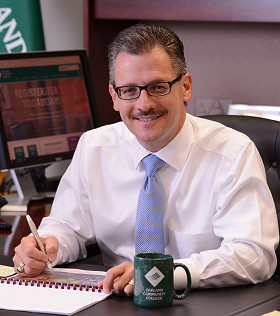 Welcome to Oakland Community College. At OCC, we are committed to student success through our quality programs, our commitment to student persistence and completion, as well as ensuring that our graduates receive the help they need to transfer to a four-year college or begin a career.
Founded in 1964, the College has served more than one million students since we opened our doors. We provide academic and career training experiences to support our students to reach their full potential and enhance the diverse communities where we live and work. We are proud to be accredited and nationally recognized for the quality of our programs.
OCC is a multi-campus system with five beautiful, unique campuses strategically located throughout Oakland County: Auburn Hills, Highland Lakes in Waterford, Orchard Ridge in Farmington Hills, Royal Oak and Southfield. Each campus is the size of an average stand-alone community college; each campus emphasizes student-centered instruction and is focused on student success.
OCC offers approximately 100 certificate and degree programs, including university transfer degrees in liberal arts, science and business. The College's unmatched array of career offerings ranges from one of the most well-regarded nursing programs in Michigan to our nationally accredited sign language program to HURCO's Training Center in our Advanced Technology Center.
As the top transfer institution in Michigan, students intending to transfer to four-year schools make up nearly half of OCC's student body. Last year, the top 11 institutions to which OCC students most frequently transferred were:
Oakland University
Wayne State University
Michigan State University
Central Michigan University
Eastern Michigan University
University of Michigan Ann Arbor
Grand Valley State University
Western Michigan University
University of Michigan Dearborn
University of Detroit Mercy
Walsh College
I invite you to explore OCC's website and experience firsthand the extensive career paths and services we offer. Fostering student success and fulfillment is the primary goal of OCC's professional and dedicated faculty and staff.
Tour our campuses, talk to our counselors and faculty, see one of our theatre productions or musical concerts, visit our libraries and experience the magnificent learning environment OCC offers to all who come here.
Oakland Community College is here to serve our community. We hope to see you soon.
Peter M. Provenzano, Jr.
Chancellor
Email the Chancellor