Someday Starts Today for Joel Lewis II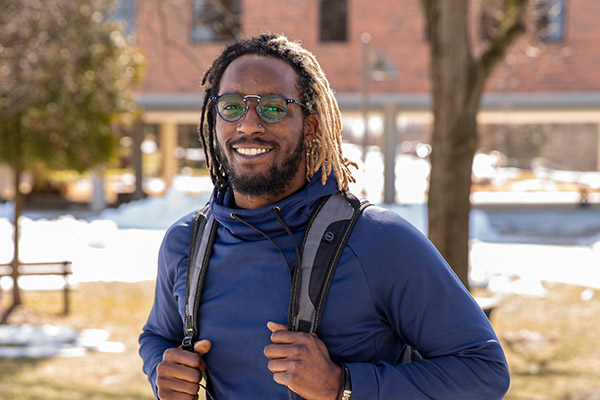 OCC is smart first step to becoming a teacher
It's almost as if Joel Lewis II was destined to end up at OCC, and not just because he hails from the southwest Detroit area. Joel's greatest fan and mentor —his mom— set the example by earning her associate degree at OCC, as did his sister.
Joel took his family's guidance to heart, but his career choice was still in question. A small part of him still wanted to turn his love of English and writing into a career as an advertising copywriter. That is until he had a life altering conversation with an academic advisor at Wayne State University.
"She sized me up pretty quickly and recommended I check into OCC to begin my undergrad course work," Joel said. "She explained how OCC has a very straight-forward and student-friendly approach to financial aid, scholarships and transfers to other institutions. The Michigan Transfer Agreement facilitates the transfer of credits from OCC to schools like MSU, Oakland University, University of Michigan, or in my case Wayne State."
Joel took the sage advice from mom and enrolled at OCC. It wasn't long before he settled into student life.
"Having the flexibility to take online and in-person classes really fits my situation," he said. "I'm able to balance substitute teaching, coaching Special Olympics basketball and taking classes at OCC without the specter of life-crushing student loan debt hanging over my head. "
Another aspect of the OCC experience Joel really appreciates is the deeper connection he enjoys with his professors and the course material.
"The smaller, more intimate class sizes at OCC allows professors to make the class material relevant to each student's individual journey. And no one personified this approach more than my fundamentals of speech Professor Dempsey Harrison III, who really takes the time to make the course material personally relevant to each student and their respective situation."
Joel is well on his way to achieving his ultimate goal of becoming a middle school English teacher, a role he believes will give him the opportunity to help shape young minds and serve as a role model for children, particularly those of color.
"Seeing an educated black man at the head of the classroom at such a young and impressionable age can have a profound impact on how kids see themselves and the opportunities available to them," he said. "It wasn't long into my OCC experience that I felt I was locked into exactly what I'm supposed to be doing…which is to help these impressionable, young kids try to reach a level they don't even know is possible yet."
Joel Lewis II is on schedule to complete his course work and transfer by the fall of '24, and thanks to OCC and all of his hard work and dedication, his "Someday" is fast approaching.
Learn why OCC is a great place to start your someday. Join a campus tour or virtual admission event. Visit oaklandcc.edu/getstarted