OCC Early College Alum Heads to Harvard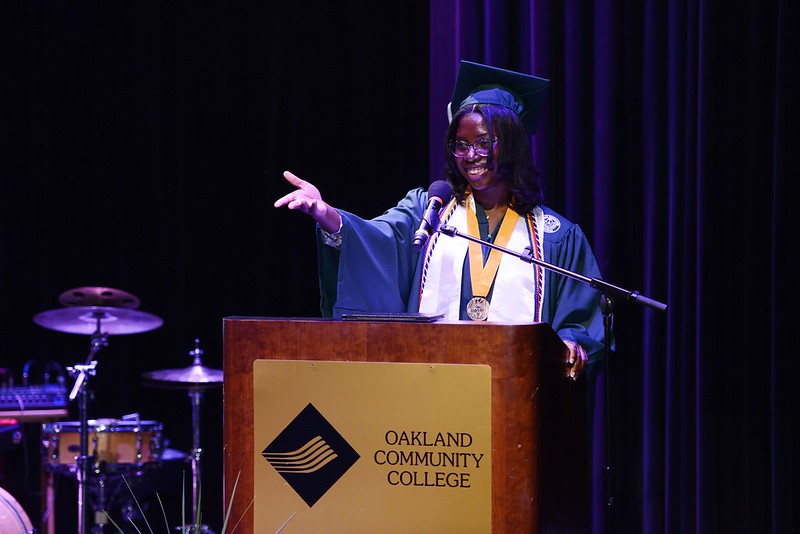 It's not often you come across a student who graduated college with two degrees before high school. For Adedoyin Adebayo, a recent graduate of OCC's Oakland Early College (OEC) program, that is just one of several remarkable accomplishments she has achieved at her young age, including her acceptance to Harvard University.
The oldest daughter of two Nigerian immigrants, Adebayo's family moved to West Bloomfield when she was in second grade. It didn't take long for her to put her research skills into use to determine what her future educational goals were. As an eighth grader, Adebayo researched many types of high schools and decided the early/middle college model was the ideal choice for her. She was thrilled that option was available in her school district
"I was attracted to the academic rigor offered by Oakland Early College where I could take enough dual enrollment classes to earn at least one associate degree," Adebayo said. "I also knew that OEC, as an early college, equips students to be independent, socially responsible, fiscally responsible, and prepared for further post-secondary education and future careers."
Early college (also known as middle college) blends high school and college into a multi-year program combining high school graduation with an OCC associate degree in grade 13. Students work simultaneously toward their high school diploma and their OCC associate degree. OCC hosts two early college experiences as well as an early college program through Oakland Technical Schools.
A culture of kindness and mentorship
Adebayo said the magic of the program at OEC is the culture of the student body.
"On my first day of 10th grade, I was immediately greeted by 13th graders who offered their guidance to all incoming students."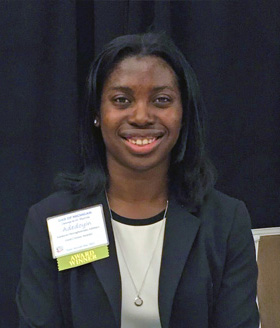 One of the greatest lessons she learned at OEC was asking for help is not shameful, but a necessary part of being a successful student. She valued receiving feedback on her essays from the college's writing lab, attending meetings held by the supplemental instructor for her college statistics class, while learning the importance of building and maintaining relationships.
"Oakland Early College encourages fellowship through field trips that are aptly called Community Time. From playing tag on the haystacks of Erwin Apple Orchard to racing on roller skates at Bonaventure, OEC recognizes that shared experiences create lasting bonds between students at all grade levels," she adds.
Adebayo credits Carole Bennett, Communications and English faculty member, who served as her forensics coach, with improving her confidence in her ability to communicate scientific information to others.
Bennett said when students perform literature or prepare for a speech, first drafts and rehearsals are usually not the best but good performers and speakers know that first attempts can usually be made better.
"Adedoyin always started with a solid base, but she wasn't afraid to ask others for feedback and to try new approaches to really sharpen her work.  I enjoyed working with her because she was always so graceful, professional, and kind."   
Bennett added that team members also enjoyed working with her because Adedoyin was eager to collaborate with others. "She is a true learner. She listens, is fearless, intelligent, and dedicated. She should be so proud of her work because her process helped her to accomplish so much."
Adebayo earned two associate degrees — science and arts — and is a biology major on the premedical track. She graduated from OCC in May and her OEC graduation was in June. While at OCC, she also completed the Global Literacy Endorsement program. This has inspired her to continue studying foreign languages and cultures.
Heading to Harvard in the fall
Adebayo's impressive achievements continue as she pursues her education at Harvard University to become a culturally competent physician-scientist and public health advocate studying Human Developmental and Regenerative Biology.
Her tips for early college success
"I would recommend OEC to any high school student who takes academics and friendliness seriously. As an early college student, it is important to maintain involvement in your school community and serve others outside of school. Also, learn about and use all of the academic resources available through the high school and the college."
For more information visit our Oakland Early College page.