Meet OCC 2023 Grads: Dominique Young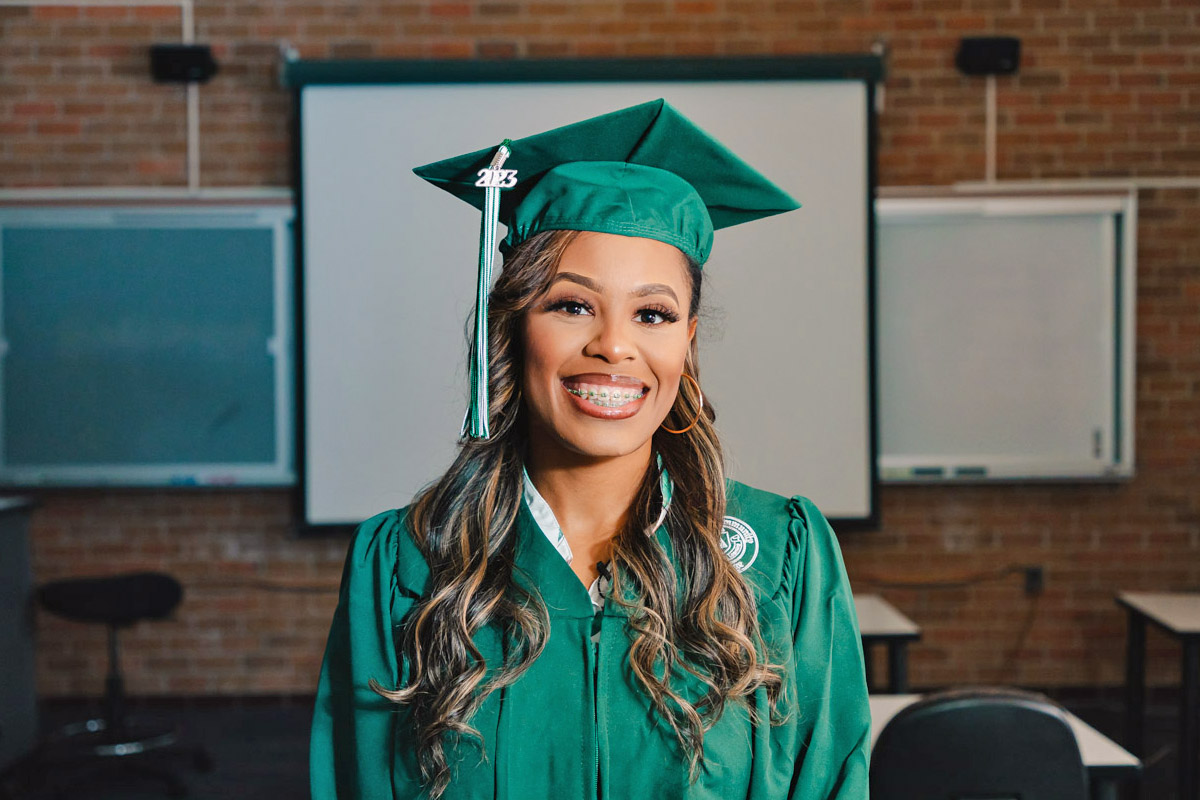 Dominique encourages others to never give up, no matter what age or stage of life they are in. It took nine years for her to earn her first associate degree. She was working and "life happened." In May, Dominique will receive her second degree from OCC. She says life happens to everybody, but it's all about the choices you make that will determine the outcome of your story.
Degree: Associate in Business Administration
Major: Mental Health, Social Work/Business Administration
Student Involvement/Honors: Peer Mentor Southfield campus
Hear more from Dominique
Q: The past couple of years have been defined by change. What's your "new normal?"
A: Never giving up. If something doesn't work the first time, I will figure it out or take another approach and it will happen.
Q: What were your biggest accomplishments at OCC?
A: As a Peer Mentor, I was able to help girls maneuver through school. I am the oldest of four from a single parent household. My mom didn't have help and may not have known how to help. So, for me to give these girls something I wish I had and see them thrive, is my biggest OCC accomplishment.
Q: What kind of support have you received from OCC faculty and staff?
A: My counselor, Rasheedah Wright, has been more than just a school counselor. I was able to talk to her about life situations. She has gone beyond her job expectations for me.
---
"You already won as long as you keep moving. The moment you stop, that's when you've lost. Life happens to everybody, but it's all about the choices you make that determines the outcome of your story." - Dominique Young
---
Q: What are the next steps?
A: I plan to attend Wayne State University and earn a bachelor's degree in mental health. I'm a student advocate and work with kids who have behavioral issues. I want to go into social work, but I also want to know the behind-the-scenes business part of it. I feel kids get lost in the system and don't have the help and resources they need.
Q: If you had to pick one thing you're taking away from your experiences at OCC, what would it be?
A: Continue to build relationships with people. Professor Saul Grunfeld (faculty chemistry) built a community inside the classroom that was top notch. We all helped each other, and he made it comfortable for us to take it outside the classroom's four walls and build relationships with people.
Q: What would you like to say to your fellow graduates?
A: The journey is not over, it's just starting. We have much more to do and to say. We have more people to meet. Just keep moving. Life is going to happen, and you can choose to keep going or stop here.