OCC Student Pursues Career as Physician After Initial Setback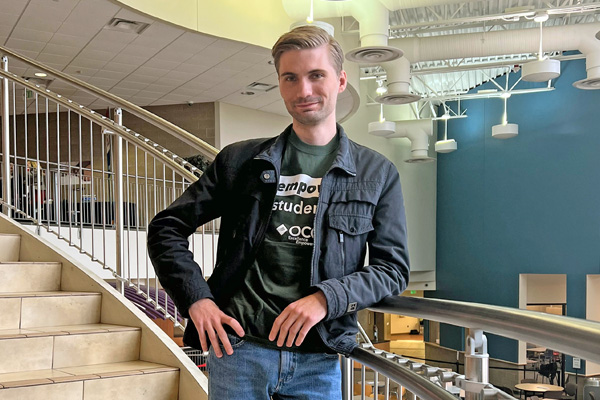 Before enrolling at Lawrence Technological University, Adam Jackiw, of Royal Oak, was already able to "code," a process of organizing data to identify meaningful themes. His interest in the field led him to pursue a computer science degree.

However, a family emergency became a life-changing moment that forced Jackiw to abruptly take leave from his college pursuits. He switched gears and worked remotely as a programmer and lived with his grandmother as her full-time caretaker for several years. She was in her late 90s and passed away at 103 this past winter.

Jackiw leaned into his processing skills and saw a new path.
"Taking care of my grandmother gave me a new perspective on human connection and made me realize that programming is not where my path lay," he said.
Jackiw returned to OCC in the fall of 2021 for a fresh start where he began pursuing a pre-med track. What he found was a bit unexpected.
"When I came to OCC, I found an intensely welcoming and compassionate environment–one which inspired me to give my absolute best."

In pursuit of a new dream

Jackiw credits OCC educators for being incredibly invested in his success as he prepares to eventually apply to medical school.

"Among many others, my instructors Cheryl Decker, Alfred DeFreece, JoDee Baker and Richard Koblin were absolute rocks of support and teaching excellence," Jackiw said. "In every class that I've walked into, OCC educators have gone above and beyond to present the material accessibly and make sure that every student understands it. At the same time, there's been no sacrifice in quality. The smaller class sizes give the best of both worlds, with time for both individual attention and a solid curriculum."

OCC courses lay the foundation for Jackiw's medical path

Jackiw said OCC's courses provided excellent preparation for his future studies.
"I'm planning on majoring in biochemistry and have been able to successfully fast track a huge amount of college curriculum here. From psychology, to chemistry, calculus and composition, OCC's course selection has been invaluable."
After some heavy academic lift, successfully taking up 32 credits a semester—double the normal amount of a full-time student--Jackiw applied to transfer to universities he wouldn't have initially dreamed of. These included prestigious next steps including the University of Michigan and Notre Dame. He is now a Michigan Wolverine and pursuing his dream.

Psychology Faculty Cheryl Decker said there is a reason she provided the highest letter of recommendation for his application to the University of Michigan.
"Adam's maturity, positive attitude, curious mind, unwavering compassion and contagious generosity were a warm welcome in my classroom. He has made a lasting imprint in my mind and in my heart," she said. "I have become a better person by knowing Adam and I can't wait for him to complete medical school so I can refer family and friends to him." 
As Jackiw explores his dream of becoming a doctor, he said he will always be thankful to OCC for his education and experience.

"OCC is a place of incredible growth: it is impossible to come here and not get caught up in the spirit of self-improvement and the constant momentum around you. Thank you to everyone at OCC who helped me along the way!"
For more information visit Self Exploration