OCC Alum Spearheads Revitalization on Detroit's West Side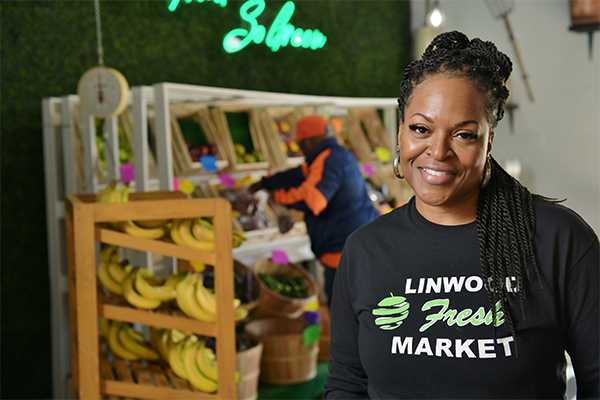 The year was 1990 and it was a new beginning for Sonya Greene. After her parents divorced, she moved to Detroit and put herself through college. Twice. Greene first went to Oakland Community College (OCC) and received her associate degree in nursing through the College's accelerated nursing program. This paved the way to obtain her bachelor's degree in nursing from Eastern Michigan University with cum laude honors.
"I have a lot of gratitude for OCC and always tell people that I learned the most about nursing through the accelerated nursing program," said Greene.
After completing her education, Greene spent 27 years in a variety of nursing roles including work in neonatal intensive care, mental health, occupational health and medical-surgical care.
Although she describes the nursing profession as a smorgasbord of responsibilities and experiences, one thing remains constant.
"When patients are discharged from the hospital there is a focus, always, on how to improve well-being through healthy food choices. Poor food options are detrimental to life."
New chapter, same mission
Greene has now embarked on a mission to improve access to health in her local community as she heads a redevelopment project, called The Shift on Linwood St. on Detroit's west side.
Central to the redevelopment is a new specialty store Linwood Fresh Market, an 1,800-square-foot property at 12737 Linwood St. The area is surrounded by fast food options and Greene is determined to change that landscape in the community.
"A 41-year-old gentleman diagnosed with congestive heart failure came into my store looking for healthy food options to detox. It is vital that the community have access to fresh quality foods to improve their health."
Greene has partnered with other Detroit based businesses to offer high quality, health-conscious options including daily fruits and vegetables. Many are brought in from Eastern Market and a partnership with Planted Detroit, which offers nutrient packed salads paying homage to Detroit including the Belle Isle Salad and Southwest Salad, which are flying off the shelves.
"Planted Detroit will soon have a Dexter Linwood Salad, and I'm proud to say that was born from my market."
As part of the redevelopment, the space on Linwood that Greene bought from her late aunt, Juanita Fuller, (another registered nurse who inspired Greene's career trajectory), will also include a barber shop, beauty salon and four one-bedroom apartments.
"I hope to rent these apartments to youth who are transitioning out of foster care to live on their own," she said. "These youth can be at high risk of homelessness, and I want to offer them an opportunity for self-sufficiency."
Greene's dream comes with a personal price
The self-made health professional and entrepreneur takes great pride in her redevelopment project but notes it has come with financial risks.
"I was not able to secure loans or grants for this redevelopment and had to sell my dream house off the Detroit River as collateral."
Greene is now living in a house she lived in and never sold after she graduated from nursing school at OCC.
Advice for OCC students pursuing nursing as a career choice
For those contemplating a nursing profession, Greene offers these words of wisdom.
---
"It's not just about a steady paycheck, it's really about a love for mankind and helping people to maximize their health."
---
Although Greene is now retired from the nursing profession, the community is fortunate to still benefit from Greene's mission, vision and smorgasbord of experiences. And her unwavering focus to improve and support a healthy quality of life in her community.
Learn more about OCC's Heath Care programs. For more information about OCC, a campus tour, or transfer sessions, visit  Admissions at OCC.