Quantanik Norton of Pontiac and Hania Imran of Royal Oak have been selected as semifinalists for the Jack Kent Cooke (JKC) Foundation's highly competitive Cooke Undergraduate Transfer Scholarship. The Foundation awards community college students who have demonstrated exceptional academic ability, leadership, service and determination with a scholarship to complete their bachelor's degrees at top four-year institutions.
Norton and Imran are among 459 semifinalists who were chosen from a pool of more than 1,700 applicants, representing 215 community colleges in 38 states.
What the scholarship provides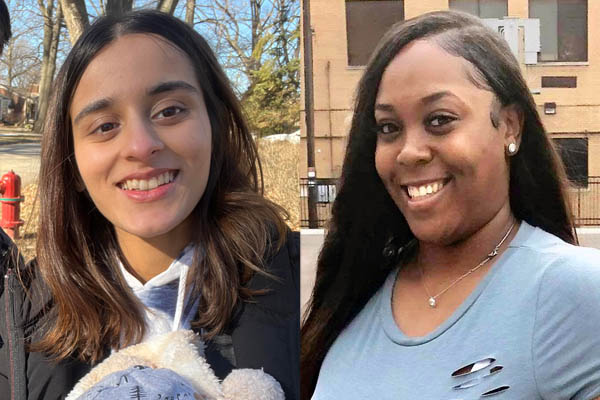 Hania Imran and Quantanik Norton
The Cooke Transfer Scholarship is designed to create a clear pathway to a four-year degree, offering awardees up to $55,000 per year to support their educational goals. In addition to the generous financial support, selected Cooke Transfer Scholars receive educational advice from the Foundation's Deans of Scholar Support to guide them through the process of transitioning to a four-year school and prepare for their future endeavors. They also have access to opportunities for internships, study abroad, graduate school funding, and connection to a robust network of more than 3,000 fellow Cooke scholars and alumni.
"By lifting the financial burden of a four-year degree off their shoulders, our goal is to help students take full advantage of a four-year college experience without taking on student debt," says Seppy Basili, executive director of the Cooke Foundation. "This year's selected semifinalists reflect the deep bench of talent across our community colleges today, and we're looking forward to getting to know them better in our final application review process."
About Hania Imran
Imran, originally from Karachi, Pakistan, moved to Michigan two years ago after getting married. The mother of two 5-month-old twin boys, she has balanced schoolwork with new motherhood.
Imran is on course to graduate from OCC in May with an associate degree in science and was accepted to her dream school, the University of Michigan, where she plans to obtain her bachelor's degree in mathematics.
"Over the years, my interest in mathematics has evolved into an obsession with complex mathematical equations," explains Imran. She wants to use her education to bring about a positive change in society, in particular underdeveloped countries like Pakistan.
"Qualifying as a semi-finalist for the Cooke Undergraduate Transfer Scholarship would mean the world to me because it would allow that dream to become a reality and it would allow me to set an example for my kids to never give up on their dreams and passions," she said.
About Quantanik Norton
Norton, who is graduating from OCC in May with an associate in applied science degree in graphic design, plans to continue her studies in the field at the College for Creative Studies (CCS) where she plans to obtain her bachelor's degree in product design.
What started as a hobby, Norton decided to focus on graphic design as a profession and her field of study through the Michigan Reconnect Scholarship program. The program allowed her to attend Oakland Community College tuition-free.
Her talent and passion have been recognized on a national level. Norton recently won first place in The Association of Community College Trustees (ACCT) logo design competition. She will be awarded $1,250 for her design. The national competition recognizes three current or recent former community college students for their exceptional graphic design talents.
"I got the news of winning the ACCT Logo competition, and two days later I received the great news about being a semifinalist for the JKC Scholarship," said Norton.
A member of the Dean's List every semester at OCC, she plans to continue her momentum at CCS and add to her already impressive skills including her own freelance business NiqueDesigns, where she provides logo design, branding, advertising, UI/UX design, and anything design-wise for up-and-coming entrepreneurs and established businesses.
OCC winning track record of Cooke Foundation scholarships
Norton and Imran are two of an impressive list of OCC past Cooke Foundation scholarship semifinalists. Last year, Tala Alahmar of Rochester Hills and OCC alum, was a semifinalist and became one of 72 recipients to receive Jack Kent Cooke Foundation's Undergraduate Transfer Scholarship. Alahmar, originally from Syria, graduated from OCC last spring with an associate in arts degree. She transferred to the University of Michigan to study International Relations and work toward her goal to become an ambassador for the United Nations.
"Quantanik, Hania and Tala are three dedicated and shining examples of past and present OCC students that are on a course to great success," said Chancellor Peter Provenzano, Jr. "We can't wait to see what their future holds."
About Jack Kent Cook Foundation
For more than 23 years, the Cooke Foundation has dedicated its mission to advancing education for exceptionally promising students who seek financial assistance. Since 2000, the Foundation has awarded almost $250 million in scholarships to nearly 3,200 students from 8th grade through graduate school, along with comprehensive educational advising and other support services. The Foundation has also provided $125 million in grants to organizations that serve such students. Learn more at www.jkcf.org.
About OCC
Oakland Community College offers nearly 100 degrees and certificates programs with the resources students need to be successful and advance our community. As a top transfer institution, OCC offers one of the state's most affordable tuition rates and flexibility in scheduling with face-to-face and online options. The College is nationally recognized for its high-demand career training with expert faculty in their fields. More than 1 million students have enrolled in the College since it opened in 1965. Learn more at oaklandcc.edu.