On-site evaluation confirms OCC has a top-notch facility, impressive faculty and a program that meets and exceeds all the criteria the ASE Education Foundation requires for accreditation
Oakland Community College's Automobile Servicing program has achieved national accreditation by the ASE Education Foundation. ASE is the National Institute for Automotive Service Excellence, recognized for its gold standards for rigorous testing and certification of auto service professionals to ensure expertise in technical knowledge and retesting for ever-advancing automotive technologies to protect consumers in the marketplace.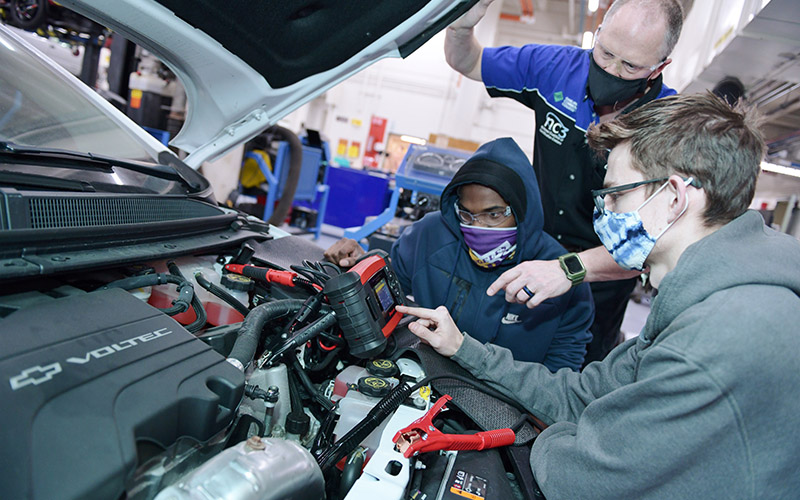 OCC's Claude Townsend works with students in the Automobile Servicing training facility on the Auburn Hills campus
In order to achieve the accreditation, OCC's Automobile Servicing program had to pass a 5-step ASE accreditation process engineered to evaluate a school's program. It included an exhaustive review and evaluation by the Foundation to ensure industry excellence in instructional standards were met.
"It took about a year for OCC's Automobile Servicing program team to gather the comprehensive set of information required for review," said Jolene Chapman, dean of engineering, manufacturing and industrial technology (EMIT). "We started the process in 2019, but the COVID shut down delayed it another year."
The follow up on-site evaluation by an ASE Educational Foundation team left no stone unturned, according to OCC's Automobile Technology program director Claude Townsend.
"The evaluation process really looks at all aspects of the program, from having a manual of standards, up-to-date curriculum, work-based learning and instruction, and even ensuring the auto shop is properly equipped, safe and not cluttered," Townsend said. "In fact, the evaluation touches on 12 categories and 67 sub categories."
Ken Kramer, the on-site review ASE Evaluation Team Leader spent two days going through the OCC Automobile Servicing facility with a critical eye, along with three other area auto service experts.
"We look at the type of equipment used to give students a hands-on training experience, shop safety, and observe the faculty teaching students to ensure the program and curriculum is tailored to the students' needs and prepares them for a good paying job in the auto servicing industry," said Kramer. "Our on-site evaluation confirmed that OCC has a top-notch facility, impressive faculty and a program that meets and exceeds all the criteria the ASE Education Foundation requires for accreditation."
OCC's top accreditation from the ASE is for a 5-year period with compliance reviews required at the halfway mark of two and a half years to remain accredited.
Townsend said having gone through this extensive process provides an accreditation "template" that can be used by other EMIT programs like Collision Auto Repair.
Having this prestigious national accreditation gives OCC's students one more advantage to help them in their future career goals.
"In addition to the comprehensive curriculum, hands on experience with cutting edge technology, and partnership with the National Coalition of Certification Centers and Mopar CAP®/FCA students in OCC's Automobile Servicing program receive, they will now graduate from an ASE accredited training program and embark on a successful career path," Chapman added. "That really gives them another advantage as they enter the job market after graduation. "
For further information about OCC's Automotive Servicing Program, visit https://www.oaklandcc.edu/programs/aus. For more information regarding ASE Educational Foundation, visit https://aseeducationfoundation.org.
About OCC
Offering nearly 100 degrees and certificates, OCC is Michigan's largest multi-campus community college and No. 1 transfer institution in the state. The College provides academic, career training and enriching experiences, designed to empower students to reach their potential and enhance our community. More than 1 million students have enrolled in the College since it opened in 1965. A seven-person Board of Trustees governs OCC. Board members are elected on a non-partisan, at-large basis, serve as volunteers and are not paid. Mission statement: OCC is committed to empowering our students to succeed and advancing our community. Learn more at oaklandcc.edu.
About ASE Education Foundation
The ASE Education Foundation is a non-profile organization that evaluates and accredits entry-level automotive technology education programs against standards developed by the automotive service industry. It also develops career-readiness education for students which fuse local partnerships, rigorous standard-based education, workplace education, and mentorship together.
Media Contact: Marketing & Communications | 248.341.2020 | contactus@oaklandcc.edu