Celebrating Progress on OCC's Royal Oak Campus Expansion and Culinary Studies Institute
The OCC community is invited to stop by the College's Royal Oak campus to mark the construction progress of the College's new Culinary Studies Institute facility at a Beam Signing event.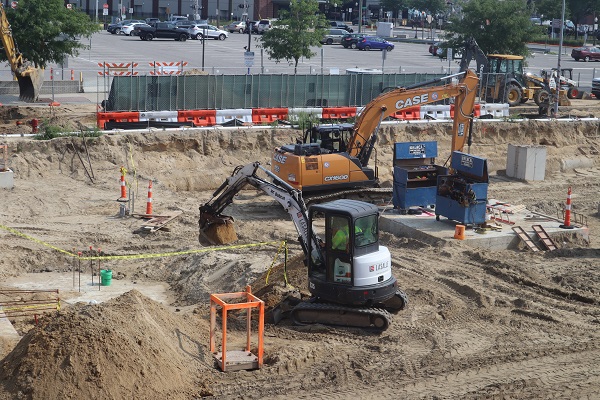 Construction site on the Royal Oak campus
Community members, students and employees are invited to visit the campus to sign the beam Tuesday or Wednesday Aug. 22 and 23 from 9 a.m. to 2 p.m.
"We are making great strides on the construction of our new culinary building and the beam signing is a symbolic way to celebrate that progress," said OCC Chancellor Peter Provenzano. "This new building will provide both an incredible learning space for our culinary students and a great dining option for the Royal Oak community."
The Open House will be held on the Flat parking lot immediately south of the OCC parking garage, on the southeast corner of Washington and Lincoln in downtown Royal Oak.
OCC broke ground November 2022 on the 78,000 square-foot addition that will house the College's award-winning Culinary Studies Institute on the Royal Oak campus.
The estimated $74 million three-story addition will feature three classrooms, two demonstration kitchens and five teaching kitchens providing students for collaborative learning and is expected to be one of the top culinary learning facilities in Michigan. The new space will also feature a 2,600 square-foot restaurant on the third floor with a sloping ceiling, large glass windows and 360-degree views of downtown Royal Oak.
The first floor will feature a flexible design for pop-up culinary retail and café service from Main Street. There will also be a separate charcuterie kitchen with a dry-aged cooler for aging meats. The second floor will host teaching kitchens and learning spaces. The third-floor restaurant will seat up to 200 for dinner and can be reconfigured to accommodate up to 300 for events, with a custom-glass wine storage room and a full-service bar to provide students with additional training in beverage service.
Barton Malow is the general contractor for the project and the architect is Harley Ellis Devereaux.
For more information about the new Culinary Studies Institute facility, visit https://www.oaklandcc.edu/new-culinary-institute/. For more information about OCC Culinary program, visit https://www.oaklandcc.edu/culinary.
 About OCC    
Oakland Community College offers nearly 100 degrees and certificates programs with the resources students need to be successful and advance our community. As a top transfer institution, OCC offers one of the state's most affordable tuition rates and flexibility in scheduling with face-to-face and online options. The College is nationally recognized for its high-demand career training with expert faculty in their fields. More than 1 million students have enrolled in the College since it opened in 1965. Learn more at oaklandcc.edu.    
 ###  
Media Contact: Marketing & Communications | 248.341.2020 | contactus@oaklandcc.edu