OCC Chancellor Peter Provenzano has been named one of the "Notable Leaders in Higher Education" by Crain's Detroit Business. This is the second Crain's award for Provenzano—his first was as Crain's CFO of the Year awarded in 2012 for his leadership in the government sector.
Crain's recognizes honorees for their innovative solutions to higher education problems; significant career accomplishments; involvement in non-profits and organizations that enriches the community; and overall contribution to the field of higher education.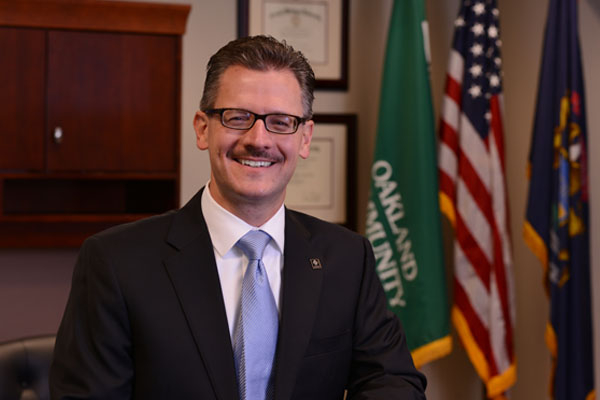 OCC Chancellor Peter Provenzano has been named one of the "Notable Leaders in Higher Education" by Crain's Detroit Business.
Provenzano's vision to move OCC towards a data-informed strategic planning process early on helped stabilize enrollment during the Pandemic while community colleges were hardest hit, losing 860,000 students nationally. Provenzano also implemented a five-year budget and 10-year capital improvement plan in his commitment to invest in improved infrastructure, including a new Science and Technology building in Auburn Hills; relocating Culinary Studies to Royal Oak; and consolidating the College's Health Sciences programs to Farmington Hills. 
One of Provenzano's innovative solutions to an emerging higher education challenge was to renew OCC's strategic plan to better meet students' changing needs and help them persist and succeed. This focus allowed the College to quickly pivot when the COVID shutdowns occurred with many necessary changes already underway including a shift to more online classes and related staff training and technologies as well as difficult budget adjustments. As a result, OCC is ahead of the curve in higher education in offering more online course options and flexible scheduling to meet student demand; increasing "wrap-around" services to address student need; and College-wide goal to double its graduation rate. These efforts have increased completion rates 23% over three years. 
Provenzano's commitment to innovation, student success, inclusion and equity in higher education is personal. He established the OCC Foundation's Provenzano Innovation Fund, personally funding faculty-led classroom innovation to test out new concepts and ideas for students and staff. Under his leadership, OCC has established the College Office of Diversity, Equity, Inclusion and Justice; launched the Student Success Fund for students experiencing non-tuition financial emergencies; and championed the faculty-led Open Education Resources initiative, supporting students with free and low-cost materials to reduce barriers, saving them more than $1 million in first three years of the program.
In addition to his leadership at OCC, Provenzano's leadership role partnering in Oakland County's Oakland80 initiative has been recognized locally and statewide as a model for success.
"When I wanted to boost the number of Oakland County residents who are getting college degrees or certified training, I looked to education leaders like Pete Provenzano to help craft our strategy," said Dave Coulter, Oakland County Executive. "The Oakland80 initiative is the result of that collaboration and we're showing significant signs of success." 
Provenzano is active in many education and community-based organizations, including serving as vice chair of the Michigan Community College Association, board member of Automation Alley and the Detroit Economic Club, and treasurer of the Royal Oak Civic Foundation.
"I am humbled to be selected by Crain's Detroit Business for this higher education honor, but my selection is really a testament to the hard work and dedication that OCC's faculty and staff exhibit every day in their commitment to ensure our students reach their academic and career goals," Provenzano said.
Visit Crain's Detroit Business to read the "Notable Leaders in Higher Education" special report and learn more about Peter Provenzano and the other 2023 honorees.
About OCC
Oakland Community College offers nearly 100 degrees and certificates programs with the resources students need to be successful and advance our community. As a top transfer institution, OCC offers one of the state's most affordable tuition rates and flexibility in scheduling with face-to-face and online options. The College is nationally recognized for its high-demand career training with expert faculty in their fields. More than 1 million students have enrolled in the College since it opened in 1965. Learn more at oaklandcc.edu.
###
Media Contact: Marketing & Communications | 248.341.2020 | contactus@oaklandcc.edu