The Michigan Community College Association recognized Oakland Community College Automobile Servicing instructor Claude Townsend with its 2022 Outstanding Faculty Award at their summer conference.

Townsend joined OCC in 2016 charged with recalibrating and rejuvenating the Automobile Servicing program. During his time at OCC, he has implemented articulation agreements with five area high schools automotive tech programs and facilitated numerous internships with manufacturing business partners across Southeast Michigan.
"Claude Townsend is dedicated to providing a top tier education to his students at Oakland Community College," said Brandy Johnson, president of the Michigan Community College Association. "His work within the community, with area high schools and local industry, exemplifies what community colleges are all about. We are thrilled to recognize Claude with our Outstanding Faculty Award."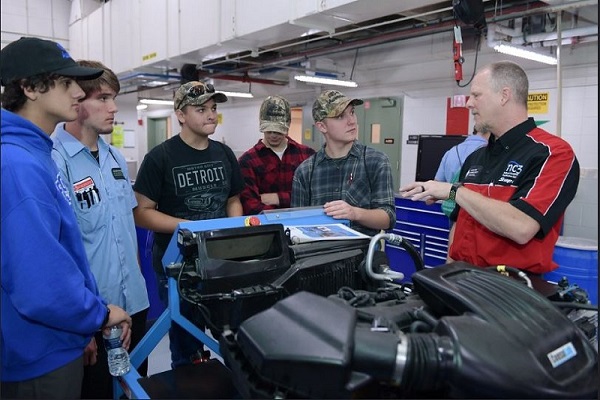 OCC's Claude Townsend (right) working with students in the Automobile Servicing lab.
Among the Automobile Servicing program's recent high honors is accreditation from the National Institute for Automotive Service Excellence Education foundation. In addition, Townsend has worked to earn professional distinction as a certified NC3 Master Instructor—the only community college instructor to earn this certification in Michigan. He has also been at the forefront of developing OCC's new Heavy Equipment Repair program to effectively address the skills gap within the region.
"Claude has completely transformed OCC's Automobile Servicing program. His commitment to teaching and industry excellence takes him across the country shadowing and teaching classes at other schools to ensure his students are getting the best," said Oakland Community College Chancellor Peter Provenzano. "We have the world's top automotive experts right here in Michigan. Because of the work Claude has done building those relationships, recalibrating our program and sharing his learning with others, students are prepared for the future. He is the perfect recipient for the state's Outstanding Faculty Award."


The Outstanding Faculty Award is presented each year to a Michigan community college faculty member based on achievement in their teaching career, service to humanity, honors received and strong commitment to the purpose and philosophy of the community college mission.
At the summer conference, the MCCA also honored past president, Mike Hansen, with the Recognition Award and a presentation of Emeritus Resolution. Hansen led the association for 16 years before retiring in December of last year. During his time at MCCA, all 28 community colleges remained active members in the pursuit of a common public policy agenda.
###
About the Michigan Community College Association
The Michigan Community College Association fosters collaboration, connection, and partnerships among the 28 Michigan public community colleges and their stakeholders. The MCCA provides strong legislative and public advocacy in Lansing and throughout Michigan, works to improve the image and credibility of community colleges, and advances numerous shared initiatives through the Michigan Center for Student Success, Michigan Colleges Online, Collaborative Programs Initiative, and the Michigan New Jobs Training Program. Learn more at www.mcca.org.
About OCC
Offering nearly 100 degrees and certificates, OCC is Michigan's largest multi-campus community college and one of the top transfer institutions in the state. The College provides academic, career training and enriching experiences, designed to empower students to reach their potential and enhance our community. More than 1 million students have enrolled in the College since it opened in 1965. A seven-person Board of Trustees governs OCC. Board members are elected on a non-partisan, at-large basis, serve as volunteers and are not paid. Mission statement: OCC is committed to empowering our students to succeed and advancing our community. Learn more at oaklandcc.edu. 
 
Media Contact: Marketing & Communications | 248.341.2020 | contactus@oaklandcc.edu