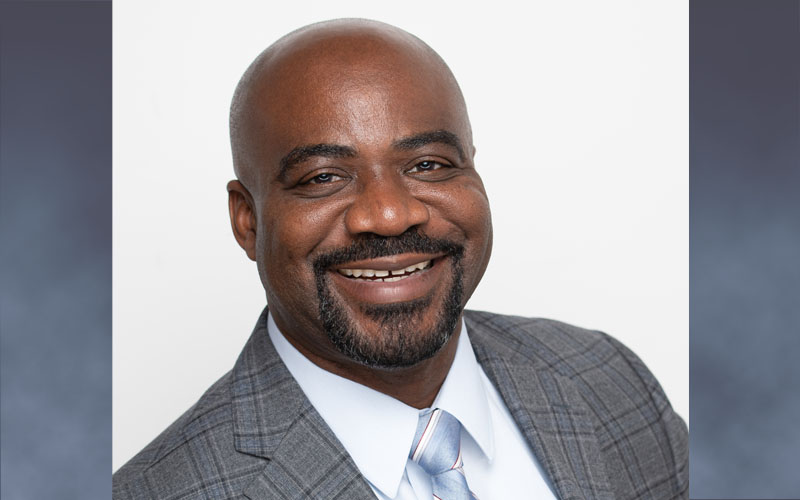 Dr. Samino Scott II
Dr. Samino Scott II, executive director of the Pontiac Collective Impact Partnership, will deliver Oakland Community College's 2022 commencement address on Saturday, May 21, at Oakland University's O'rena Athletics Center in Rochester, Mich. The event will be the first in-person commencement ceremony for the College since 2019.
With over two decades of extraordinary leadership experience, Scott is dedicated to empowering others and improving the quality of life and success for every child in the city of Pontiac and beyond, from cradle to career.
Dr. Scott, serves as the inaugural executive director of the Pontiac Collective Impact Partnership, a community-driven initiative. In this role, Dr. Scott provides leadership and support for the partnership's day-to-day operations. He has more than two decades of professional experience in the civic and private sectors, most recently serving as community affairs director for the United Way of Southeastern Michigan, where he worked with school districts, higher education institutions, municipalities, corporations, and other nonprofit agencies to effect systemic change and bring much-needed resources to the city of Pontiac.
Dr. Scott is a Pontiac native and proud graduate of the Pontiac School District. He earned his bachelor's and master's degrees from the School of Business at Oakland University and his Doctor of Philosophy in Educational Studies from the College of Education at Eastern Michigan University . Dr. Scott's research has examined the factors that impact African American males' educational aspirations and influence their post-secondary enrollment decisions.
He began his career working as an Oakland University's admissions counselor after graduation. There he met students who weren't sure what career path to take and it ignited a passion in him that evolved to where he is today.
About OCC's commencement

Commencement will be held on Saturday, May 21 at 10 a.m. and 2 p.m. at Oakland University's O'rena and live streamed on Facebook.
· 10 a.m.: Graduates receiving an Associate in Applied Science degree (AAS or AASX) or a Certificate (CT)
· 2 p.m.: Graduates receiving Associate in Arts, Associate in Business Administration, Associate in General Studies, Associate in Science
###

About OCC
Offering nearly 100 degrees and certificates, OCC is Michigan's largest multi-campus community college and No. 1 transfer institution in the state. The College provides academic, career training and enriching experiences, designed to empower students to reach their potential and enhance our community. More than 1 million students have enrolled in the College since it opened in 1965. A seven-person Board of Trustees governs OCC. Board members are elected on a non-partisan, at-large basis, serve as volunteers and are not paid. Mission statement: OCC is committed to empowering our students to succeed and advancing our community. Learn more at oaklandcc.edu.

Media Contact: Marketing & Communications | 248.341.2020 | contactus@oaklandcc.edu