Oakland Community College's award-winning Culinary Studies Institute is known nationally for its training for aspiring chefs. But did you know its menu of offerings extends beyond traditional certificates and degrees? Home kitchen wannabes this one's for you.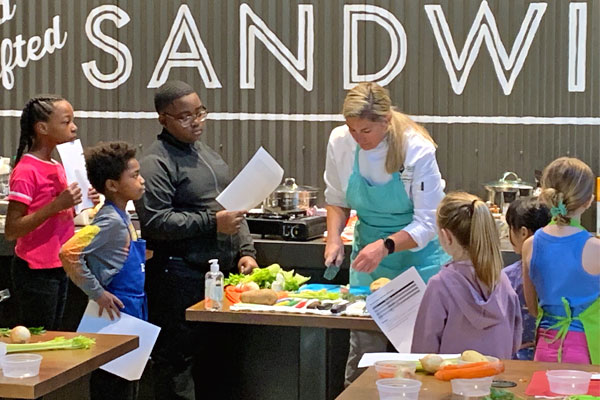 OCC's Continuing Education program is offering six community cooking classes this fall, including two for children.
As part of the College's popular continuing education program, OCC's culinary program has announced its fall schedule including cooking classes especially for children. In just one evening adults can also learn how to make fresh pasta, cook vegan, prepare fresh Indian cuisine, and tips on healthy eating for the holidays. Class size is limited for an intimate cooking experience.
Rolled Sushi- Children's' Class, Saturday, Oct. 14, 2023, 10 a.m. to noon, $25. Children six to 16 years old will learn the basics of making three different types of rolled sushi: spicy tuna roll, inside-out California roll and a dessert sushi roll. 
Cooking Vegan Demonstration, Tuesday, Oct. 17, 2023, 6 - 8 p.m., $40. This class focuses on how to make use of plant-based substitutions for animal-based products in recipes. Participants will learn how to make vegan corn chowder, Mediterranean potato salad, vegan Bao buns, and vegan brownies.
Indian Cuisine Demonstration, Wednesday, Oct. 25, 2023, 6 - 8 p.m., $45. Participants will learn all about the many culinary delights of India including spicy mango salad, cauliflower 65, sweet corn and green peas Pulao, and Tandoori salmon.
Pasta Fresca, Tuesday, Nov. 14, 2023, 6 - 8 p.m., $45. Learn how to make fresca (fresh) pasta, including how to roll and shape different types of traditional pasta shapes. Participants will also learn to make Arrabiata, Carbonara, Pesto and Alfredo sauce, along with some seasonal toppings.
Taco Party and Elotes – Children's Class, Saturday, Nov. 4, 2023, 10 a.m. to noon, $40. Children and teens age six to 16 will make a variety of foods for a taco party, including pico, taco slaw, guacamole, pickled red onion, cilantro lime rice, beef, chicken, and grilled Elotes. In addition, students will learn how to set up a buffet and celebrate with a taco party at the end of class.  
How to Navigate Healthy Eating during the Holidays Demonstration, Thursday, Nov. 16, 2023, 6 - 8 p.m., $40. In this demonstration participants will learn tips, tricks and recipes to help make better food choices while attending holiday parties and learn to prepare a few healthy appetizers.
For more information on OCC's Continuing Education Culinary classes and to register, visit
https://www.oaklandcc.edu/ce/culinary.
About OCC
Oakland Community College offers nearly 100 degrees and certificates programs with the resources students need to be successful and advance our community. As a top transfer institution, OCC offers one of the state's most affordable tuition rates and flexibility in scheduling with face-to-face and online options. The College is nationally recognized for its high-demand career training with expert faculty in their fields. More than 1 million students have enrolled in the College since it opened in 1965. Learn more at  oaklandcc.edu.
###
 Media Contact: Marketing & Communications | 248.341.2020 | contactus@oaklandcc.edu