The 78,000 square-foot three-story expansion will feature unique teaching-demonstration kitchens and a third-floor restaurant where student cuisine will be served overlooking downtown Royal Oak
OCC has broken ground on a 78,000 square-foot addition that will house the College's award-winning Culinary Studies Institute on the college's Royal Oak campus. The new facility, on the southeast corner of Main Street and East 7th Street, is scheduled to open Sept. 2025.
The estimated $74 million three-story addition will feature three classrooms, two demonstration kitchens and five teaching kitchens providing students for collaborative learning and is and expected to be one of the top culinary learning facilities in Michigan. The new space will also feature a 2,600 square-foot restaurant on the third floor with a sloping ceiling, large glass windows and 360-degree views of downtown Royal Oak.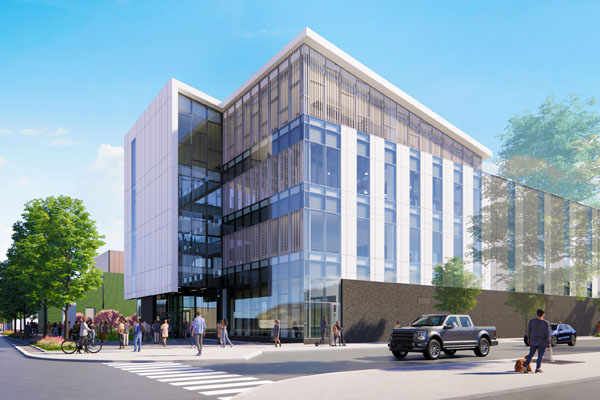 "The new Culinary Studies Institute building on our Royal Oak campus will provide students with a bold and visionary culinary learning facility," said OCC Chancellor Peter Provenzano. "It will also feature a restaurant where our culinary students will prepare and serve fine-dining recipes as part of their training, a great fit into Royal Oak's vibrant food scene."
The first floor will feature a flexible design for pop-up culinary retail and café' service from Main Street. There will also be a separate charcuterie kitchen with a dry-aged cooler for aging meats. The second floor will host teaching kitchens and learning spaces. The third-floor restaurant will seat up to 200 for dinner and can be reconfigured to accommodate up to 300 for events, with a custom-glass wine storage room and a full-service bar to provide students with additional training in beverage service.
"There is not a facility quite like this anywhere in our area," said Culinary Faculty Member Chef Juie Selonke. "This new building is going to transform culinary education in the Detroit area – a region known for its edgy, urban vibe, creative entrepreneurial spirit, and, of course, food! We cannot wait to share this incredible space with our students and community."
The two new demonstration kitchens include instructional video technology to live stream the teaching chef's cooking demonstrations to monitors around the facility and enhance the students' culinary learning. It will also be used to host local, state, and national food competitions.
According to Selonke, this integrated technology provides tremendous flexibility in teaching and learning and space for academic conferences and national culinary competitions.
"This will give us an incredible opportunity to connect virtually with chefs at home and around the world, and will broaden our students' culinary experiences," she said.
Architect and engineering firm, Harley Ellis Devereaux (HED), worked closely with OCC's steering committee members and Royal Oak's city leaders and planning commission.
"This new building creates a new welcoming and engaging front door for OCC on Main Street that enriches and energizes our downtown streetscape with the excitement happening inside," said HED Principal and Higher Education Sector Leader Chris Vogelheim. "It features the most modern instructional spaces and will positively impact our community by filling the needs of the hospitality industry that has made Royal Oak the vibrant and energetic community we love."
The building's sustainable design is adaptable for the future needs and provides the Culinary Studies Institute to stay current with culinary trends.
Vogelheim's favorite part of the design is the third-floor restaurant space, where students have the chance to practice their art and the community will reap the benefits as, "we are invited in to experience their culinary delights."
"There is something poetic about placing this space on the third floor, inviting us all inside and up into the building, where we can experience the wonderful food and the views back into the city with the understanding that these students will be the next superstars in our restaurants in our vibrant downtown."
Barton Malow is the general contractor for the project and the architect is Harley Ellis Devereaux.
For more information about the new Culinary Studies Institute facility, visit https://www.oaklandcc.edu/new-culinary-institute/. For more information about OCC Culinary program, visit https://www.oaklandcc.edu/culinary.
About OCC
Offering nearly 100 degrees and certificates, OCC is Michigan's largest multi-campus community college and one of the top transfer institutions in the state. The College provides academic, career training and enriching experiences, designed to empower students to reach their potential and enhance our community. More than 1 million students have enrolled in the College since it opened in 1965. A seven-person Board of Trustees governs OCC. Board members are elected on a non-partisan, at-large basis, serve as volunteers and are not paid. Mission statement: OCC is committed to empowering our students to succeed and advancing our community. Learn more at oaklandcc.edu. 
###
Media Contact: Marketing & Communications | 248.341.2020 | contactus@oaklandcc.edu