Gain a greater appreciation for our differences and learn more to build an inclusive community for all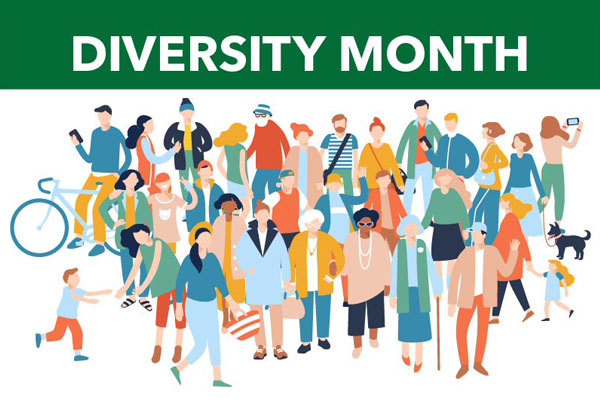 OCC is celebrating April's Diversity Month by offering events and resources that recognize and honor the diversity surrounding us all. Join us as we build a greater sense of belonging through our differences, where all people feel valued.
Celebrate & Build Community
Empowerment Summit




Friday, April 14, 10 a.m. - Noon

 | 

Virtual




Keynote Speaker:

 

Loretta Ross




This event will bring together employees to spread awareness and share information to promote OCC's institutional initiatives of Diversity, Equity, Inclusion, and Justice. We will review what the Office of DEIJ has done this academic year, as well as what's to come. We will also be announcing our DEIJ award recipients. Our keynote speaker, Professor Loretta Ross, will discuss creating changing by calling people in instead of calling people ou

t.

Sign the Pledge
We believe every individual deserves the chance to do their best, to be respected, and to feel safe and supported. Each of us has an opportunity to make a difference—to learn and to grow as part of our personal journey. Together, we are asking members of our community to commit to making OCC a more equitable, diverse and inclusive community and champion DEIJ forward.
Recognize & Honor
Zoom Backgrounds

 - Download new backgrounds to celebrate Diversity Month, virtually. 

OCC's 2023 Diversity Champion 

honorees will be announced on Friday, April 14 at the College's annual

Empowerment Summit

.
Learn & Grow Your Understanding
Understanding Ramadan

 - This time of year is filled with many important celebrations of faith. We call special attention to Ramadan, the Muslim month of fasting. Ramadan 2023 is

April 2–May 2

.  

Arab American Heritage Month: History Culture and Stereotypes


Tue, April 4, Noon-1 p.m.

|

Virtual




Speaker:

David Serio, Curator of Education,

Arab American National Museum


During the month of April, the United States celebrates Arab American Heritage Month, recognizing the history, cultures, and achievements of Arabs and Arab Americans. It is critically important to share accurate information, celebrate diverse cultures, overcome stereotypes, and empower ourselves.
Thu, April 6, Noon-1 p.m. | Virtual
Speaker: Zarinah El-Emin, Anthropologist, Beautifully Wrapped
Learn how to tie your own headwrap and the unique history of wrapping across the globe. With a piece of cloth, you will create a piece of art and share in this global movement.
For more information on these and other events, connect with OCC's Office of Diversity, Equity, Inclusion & Justice (DEIJ) and visit the website.
About OCC
Oakland Community College offers nearly 100 degrees and certificates programs with the resources students need to be successful and advance our community. As a top transfer institution, OCC offers one of the state's most affordable tuition rates and flexibility in scheduling with face-to-face and online options. The College is nationally recognized for its high-demand career training with expert faculty in their fields. More than 1 million students have enrolled in the College since it opened in 1965. Learn more at oaklandcc.edu.
###
Media Contact: Marketing & Communications | 248.341.2020 | contactus@oaklandcc.edu