Margaret Dunning Foundation Grant provides equipment support and professional development opportunities to OCC's Automobile Servicing Program

A $29,000 grant from the Margaret Dunning Foundation has empowered OCC's Automobile Servicing program to purchase equipment and continue to upskill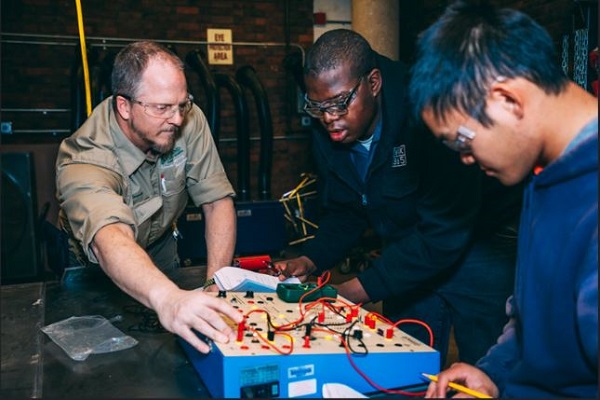 the College's award-winning faculty and staff through various professional development opportunities.
The portable oscilloscope trainers that were purchased with the grant funds enable students to earn a certification through the National Coalition of Certification Centers (NC3). Such certifications make OCC students more marketable, as they are a testament to the students' mastery of skills.
The grant funds additionally supported faculty and staff engagement in professional development related to electric vehicles, tire balancing, electric welding and precision measuring instruments.
"This technical training helps broaden the skill set of our faculty and staff," said Claude Townsend, OCC's Automobile Servicing program coordinator. "This additional training, of course, ultimately benefits our students as they earn certifications through the National Coalition of Certifications Centers at no additional cost to our students."
The National Coalition of Certification Centers (NC3) is a partnership among education professionals and industry representatives to create a highly skilled, job-ready workforce. More information can be found on NC3's website at https://www.nc3.net.
For more information about OCC's Automobile Servicing program, visit https://www.oaklandcc.edu/programs/aus/default.aspx.
###
About OCC
Offering nearly 100 degrees and certificates, OCC is Michigan's largest multi-campus community college and one of the top transfer institutions in the state. The College provides academic, career training and enriching experiences, designed to empower students to reach their potential and enhance our community. More than 1 million students have enrolled in the College since it opened in 1965. A seven-person Board of Trustees governs OCC. Board members are elected on a non-partisan, at-large basis, serve as volunteers and are not paid. Mission statement: OCC is committed to empowering our students to succeed and advancing our community. Learn more at oaklandcc.edu.
About the Margaret Dunning Foundation
The Margaret Dunning Foundation was founded by Ms. Dunning in 1997. She was born in 1910 in Redford Township, Michigan, and moved with her mother to Plymouth, Michigan in the 1920s. During her lifetime, Ms. Dunning was a successful businesswoman, philanthropist, and civic booster. She was a major supporter of many Plymouth nonprofits, including the Plymouth District Library and the Plymouth Historical Society. In addition to her personal philanthropy, Ms. Dunning was a classic car enthusiast and was a regular participant in the Woodward Dream Cruise with her 1930 Packard 740 Roadster.
Ms. Dunning died in 2015 at the age of 104. Her estate provided additional funding for the Margaret Dunning Foundation, which continues to support her charitable interests and legacy. For more information: www.margaretdunningfdn.org.
Media Contact: Marketing & Communications | 248.341.2020 | contactus@oaklandcc.edu