Industry stakeholders and the public invited to Sept. 14 event spotlighting opportunities in Michigan's electric vehicle and mobility industry
Oakland Community College Chancellor Peter Provenzano will represent the College as an Honorary Dignitary at the Michigan Department of Labor and Economic Opportunity (LEO) Energizing a Sustainable EV & Mobility Workforce Ecosystem event for the public at the North American International Auto Show.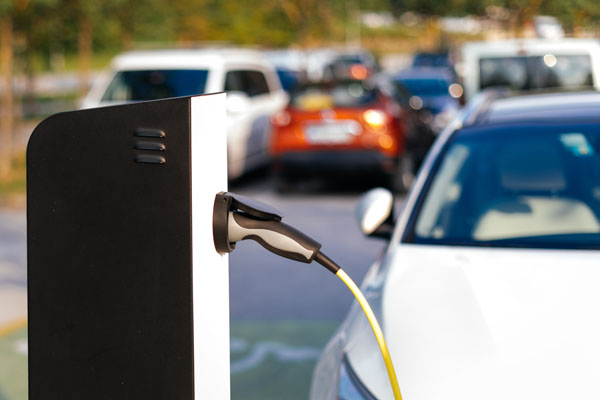 Energizing a Sustainable EV & Mobility Workforce Ecosystem will be held Thursday, September 14 from 1 to 4 p.m. The event will spotlight career opportunities supported through EV Jobs Academy in its work to build the talent pipeline for manufacturing and repairing electrified vehicles. The Academy is funded through the State of Michigan Department of Labor and Economic Opportunity.

"The EV Jobs Academy is an innovative initiative to connect Michiganders with good-paying, high-skill jobs building the cars, trucks, and batteries of the future," said Governor Whitmer. "By bringing workforce development and industry together, we can fill talent needs to keep growing our economy and advancing our mobility leadership. This academy, the EV/Mobility Talent Action Team, our bipartisan economic development work, and other actions are helping us show the world that anyone can 'make it' in Michigan."
The EV Jobs Academy is dedicated to equipping individuals with the skills and knowledge needed to excel in the EV and mobility industries. The employer-led collaborative is designed to provide Michiganders with tuition assistance and supportive services, including "earn while you learn" opportunities through registered apprenticeship programs, to support and streamline onramps to high-wage and in-demand careers. Learn more about the EV Jobs Academy at www.michigan.gov/evjobsacademy.
"We believe in the power of collaboration at Oakland Community College. Working together with the partners of the EV Jobs Academy we continue to add, adapt and maintain the many education and training programs that lead to careers in the electric vehicle and automotive industry," said Peter Provenzano, Chancellor, Oakland Community College. "The availability of skilled talent is critical for our industries to compete and needed for our community and students to prosper."
The program is part of Team Michigan's ongoing efforts to develop a comprehensive ecosystem in the state, from the EV/Mobility Talent Action Team to efforts being spearheaded by partners like MICHAuto, that delivers a strong workforce for industry partners and positions the state as the best place for talent to build rewarding careers with a quality of life to match.
"As the industry continues to evolve and grow, the EV Jobs Academy stands as a beacon of innovation and opportunity," said LEO Director Susan Corbin. "We hope anyone interested in learning more about the great opportunities available in Michigan's rapidly growing electric vehicle and mobility industry will join us as we look forward to a future of continued collaboration and success."
Provenzano, along with other area community college leaders, will participate in the reading of a resolution in support of the EV Jobs Academy. The gathering will provide a platform for industry leaders and stakeholder partners who will join LEO to illustrate the progress the EV Jobs Academy has made in developing and scaling electric vehicle and mobility training in Michigan.
Event attendees will have the opportunity to learn about high demand occupations, hiring demand, education and training programs and funding opportunities. Employer-led collaboratives are designed to bring together academia, industry, workforce agencies, and other stakeholder partners to develop postsecondary education and certification training programs that lead to middle and high wage employment opportunities.
"Michigan has a rich history of manufacturing excellence, and it's crucial that our workforce is prepared for the jobs of the future. This means creating pathways for everyone – from young talent to assembly line workers – to understand and engage with the mobility industry," said Justine Johnson, Chief Mobility Officer with the state's Office of Future Mobility and Electrification. "Through collaborative public-private partnerships and events like these, we will continue to ensure that the electrified future of mobility is developed, tested and deployed by our highly skilled workforce here in Michigan."
"The auto show session will feature prominent speakers on the EV Jobs Academy strategy, deliverables, and impact of this initiative to grow Michigan's workforce," said Michele Economou Ureste, Workforce Intelligence Network (WIN) Executive Director.
The Energizing a Sustainable EV & Mobility Workforce Ecosystem event is free and open to the public. Registration is required at winintelligence.org. If attendees are interested in venturing to the Auto Show exhibit floor following the EV session, a Technology Day pass can be purchased through naias.com.
This event is made possible with the generous sponsorship of Amatrol,ATS-LAB Midwest, and the Smart Automation Certification Alliance (SACA).
About OCC    
Oakland Community College offers nearly 100 degrees and certificates programs with the resources students need to be successful and advance our community. As a top transfer institution, OCC offers one of the state's most affordable tuition rates and flexibility in scheduling with face-to-face and online options. The College is nationally recognized for its high-demand career training with expert faculty in their fields. More than 1 million students have enrolled in the College since it opened in 1965. Learn more at  oaklandcc.edu.   
###
Media Contact: Marketing & Communications | 248.341.2020 | contactus@oaklandcc.edu