Mix equal parts preparation, performance and perseverance. Add a pinch of resolve and you'll have the recipe that helped future OCC student Natalia Shaffer rise to Baking & Pastry Champion for the second consecutive year in the SkillsUSA Michigan Commercial Baking Competition. Shaffer's prize includes a $1000 scholarship from The Garden Party Foundation.
Shaffer, a senior at Lake Orion High School who will begin her culinary education at OCC Winter 2021 semester, bested 39 competitors to take top honors in the baking and pastry division. She impressed judges with her cake decorating skills, and delectable rolls and cookies. She also competed in last year's competition and won an additional $1,000 scholarship. The competition spans multiple culinary venues on the College's Orchard Ridge campus, including the teaching kitchens and two restaurants.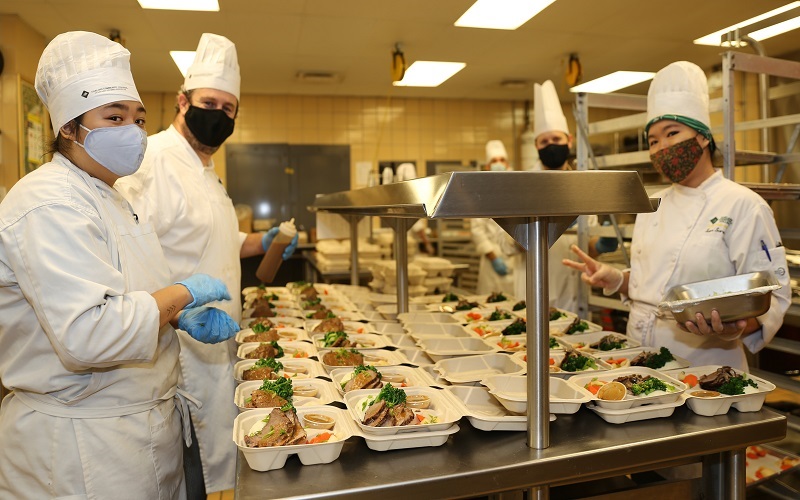 "OCC has been involved with the SkillsUSA competition for almost a decade, and it's always so much fun when high school students descend on our campus to display their formidable talents," said Chef Julie Selonke, program coordinator and instructor at the OCC Culinary Studies Institute. "The competition is a profound experience for students, and pushes them to excel in ways they won't experience in a typical class setting. It is stressful, yet an amazing opportunity to learn and put their skills to the test." The OCC Foundation has presented scholarships to top three finishers in each division for the past three years.
"The Garden Party Foundation has been an incredible supporter of OCC students for more than a decade. Proceeds raised by the group have tremendous impact on the lives of our students," said Dan Jenuwine, vice chancellor for advancement.
According to Jenuwine, The Garden Party Foundation scholarships benefit students in all of OCC's professional trades programs including the College's Culinary Studies Institute, collision auto repair, HVAC/R systems technology, robotics/automated systems technology, welding technology, automobile servicing, criminal justice, electrical trades, fire fighter technology and machine tool technology and has raised more than $640,000 for OCC student scholarships since 2009.
SkillsUSA is a national nonprofit organization serving teachers, high school and college students preparing for careers in trade, technical and skilled service occupations, including health occupations.
About OCC
Offering nearly 100 degrees and certificates, OCC is Michigan's largest multi-campus community college and No. 1 transfer institution in the state. The College provides academic, career training and enriching experiences, designed to empower students to reach their potential and enhance our community. More than 1 million students have enrolled in the College since it opened in 1965. A seven-person Board of Trustees governs OCC. Board members are elected on a non-partisan, at-large basis, serve as volunteers and are not paid. Mission statement: OCC is committed to empowering our students to succeed and advancing our community. Learn more at oaklandcc.edu.
About the OCC Foundation
The Oakland Community College Foundation started in 1979 to raise private donations, increase opportunities for students, and enhance the quality of education through gifts that support students with scholarships, equipment purchases and program development. The OCC Foundation is governed by a board of directions made up of community leaders.
About The Garden Party Foundation
The Garden Party Foundation was founded by Sydney L. Ross and his wife, Elizabeth. The Garden Party event was initiated and is maintained by The J. Lewis Cooper family and Elizabeth and Sydney L. Ross Foundation. The mission of The Garden Party Foundation (TGPF) is to provide professional trade scholarships to underprivileged young adults. TGPF believes that the purpose of education is to teach students skills allowing them the opportunity to create their own self-sustainable life, which goes hand in hand with TGPF's intention…to help one student at a time reach their dreams. The foundation also aims to make The Garden Party the finest and most prominent food and wine event in the state. For more information, visit The Garden Party Foundation website at www.thegardenpartymichigan.org.
###
Media Contact: Marketing & Communications | 248.341.2020 | contactus@oaklandcc.edu