Determination, ability to adapt, accomplishment characterize commencement speaker, 2021 graduates
Lieutenant Governor Garlin Gilchrist II received his first computer at age 5. By 16, he was building his own, and using them to set up a computer lab at a Detroit community recreation center.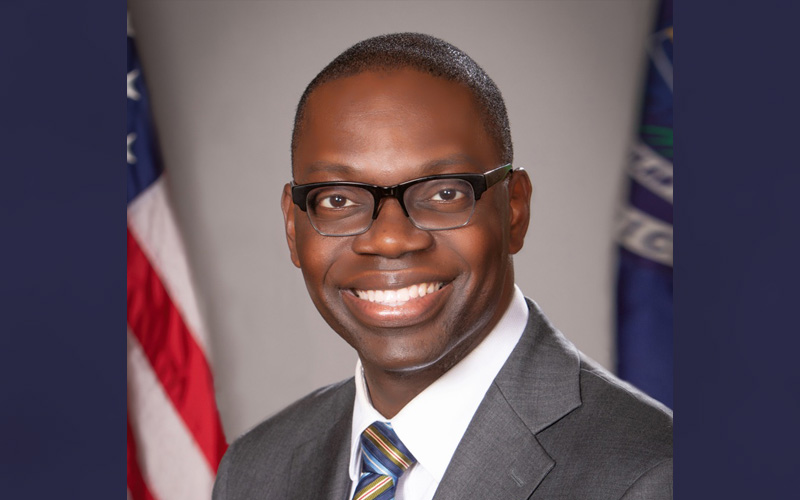 Lt. Governor Garlin Gilchrist II to be keynote speaker at OCC's Virtual Commencement June 12
This motivation, ingenuity and commitment to community propelled Gilchrist through his successful career as a software engineer, social entrepreneur and community organizer, before being elected Michigan's Lieutenant Governor in 2018.
On Saturday, June 12, 2021, at 10 a.m., Gilchrist will share insights from his journey to Oakland Community College's Class of 2021, when he serves as keynote speaker for OCC's virtual commencement.
The fact that his remarks will be delivered in a pre-recorded address – and that the entire virtual commencement is pre-recorded – is both a sign of the times and of the challenges that students have had to overcome during OCC's first-ever, all-online year of learning.
They are in good company. Gilchrist's work has also been characterized by a drive to succeed and solve problems.
After studying computer engineering and computer science at the University of Michigan, where he graduated with honors, he worked as a software engineer at Microsoft, helping to build SharePoint into the fastest-growing product in the company's history. He was also a guest student at OCC while attending the University of Michigan.
He spent the next several years of his career as a social entrepreneur and community organizer, helping people in communities across America realize their full economic and political potential. Upon returning home to Detroit, Gilchrist worked in local government to help build systems that made the government more responsive, transparent and accountable to city residents.
As part of the Whitmer Administration, Lieutenant Governor Gilchrist has sought to address injustice and inequity across Michigan at every level. From co-chairing the Michigan Joint Task Force on Jail and Pretrial Incarceration to helming the Coronavirus Task Force on Racial Disparities, these task forces have taken actions that saved lives and protect our most vulnerable populations.
Gilchrist and his wife, Ellen, reside in Detroit where they are raising their twins, Emily and Garlin III, and daughter, Ruby.
About OCC's virtual commencement
Virtual commencement will start at 10 a.m. on Saturday, June 12, and consist of four pre-recorded ceremonies, available on OCC's website:
1. Arts and Communications
2. Business, Management, Marketing, Technology, and Engineering, Manufacturing & Industrial Technology
3. General Studies
4. Science, Health Sciences and Human Services

Each ceremony's end time will depend on the number of graduates, and each student will be featured alphabetically on a graduate recognition slide. This will include any personal message (photo, quote, video) that the student chose to submit.
About OCC
Offering nearly 100 degrees and certificates, OCC is Michigan's largest multi-campus community college and No. 1 transfer institution in the state. The College provides academic, career training and enriching experiences, designed to empower students to reach their potential and enhance our community. More than 1 million students have enrolled in the College since it opened in 1965. A seven-person Board of Trustees governs OCC. Board members are elected on a non-partisan, at-large basis, serve as volunteers and are not paid. Mission statement: OCC is committed to empowering our students to succeed and advancing our community. Learn more at oaklandcc.edu.
###
Media Contact: Marketing & Communications | 248.341.2020 | contactus@oaklandcc.edu