College Students from Nigeria, Yemen, Spain and India Discuss Life During Coronavirus

International students, representing four countries, shared global perspective with OCC students, educators and College employees on how a public health foe has affected their education, family and community. In a 90-minute online panel discussion, "We Are All in this Together" Global Panel, the students presented from Lagos, Nigeria; Sana'a, Yemen; Barcelona, Spain; and Chennai, India.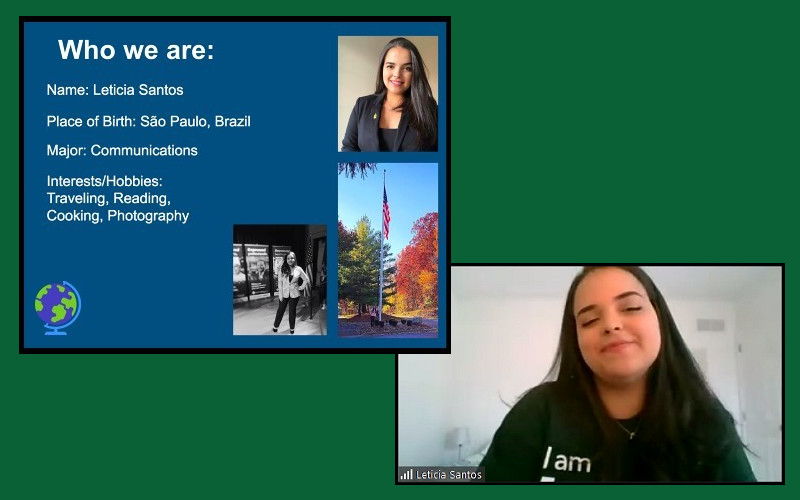 Students from around the world shared their stories on life during the Coronavirus pandemic. .
"The heartfelt remarks from each student remind us that we're better together than apart, and more alike than different," said Eleonora Bagatelia, OCC director of Global Education. "This pandemic has challenged us across the globe and forced us to adapt and cope in new ways. While these students attended from international locations, they clearly shared a single voice when it came to concern for their family and our global community."
OCC English Professor Suba Subbarao leveraged her international network for the virtual event. "We're proud of the variety of programs we offer at OCC in global education to ensure our students and community gain the knowledge and understanding to see the world from different perspectives. A global education is more important than ever to navigate cultural differences and develop the curiosity, empathy and humility to succeed in our connected world."
Graphic design student, and former Rochester High School exchange student, Miren Riveira, spoke emotionally of the hardship Coronavirus continues to wreak on Barcelona, Spain. She shared images of empty streets, abandoned storefronts, and a series of photos of her family, several of whom have died from the virus. She said the "isolation" of not seeing her family has been tough, and she struggles to imagine how life will be after the virus subsides with so much loss and grief in the region.
Samia Aldhmari and Taqia Bashher Abutalb, students at Al-Hikmah University in Sana'a, Yemen, shared a political cartoon that compared the ongoing Yemeni Civil War with the threat of the Coronavirus. The English Translation majors stressed that "war kills more than COVID-19" and that the five-year conflict has "devastated" the country's health care system, leaving it ill equipped to battle the virus. The women reported that their education continues online in a limited manner, and that the country is taking precautions to increase "awareness and training" about Coronavirus.
Speaking from his family home in Lagos, Nigeria, Dr. Ifeanyi Okafor, Jr., is disappointed that local stay at home guidelines have put his compulsory internship and dental school commencement on hold. However, he expressed greater concern about the impact the Coronavirus will have on the economy and crime rate. He also fears the effect long-term social isolation will have on community mental health. "My life is on hold, but I am grateful that I am safe, and the people around me are healthy," said Okafor.
Dhruva Vittal, an architecture student from Chennai, India, lamented that many did not take the Coronavirus seriously in the beginning, and that it has been particularly tough on "daily wage workers," many of who had to walk more than a hundred kilometers to return to their villages once the government ordered businesses and mass transit to close. His education continues, but he stressed it is difficult because several of his classes require an "in person critique of coursework."
"The student's spoke of the inconvenience, pain, and loss associated with the Coronavirus pandemic. They raised important points about health care, education, and being a part of the global community. Most poignantly, they elevated the importance of humanity, and the need for kindness, reflection and gratitude," said Bagatelia. "It's easy to become wrapped up in the difficulty of this situation, but instead of shutting down these students started an important conversation and offered an important perspective about global solidarity."
Anne Palmer, an OCC library learning resource technician, appreciated the opportunity to hear from students around the globe. "The adversity they face is far more difficult than what we are enduring here," she said. "It was very humbling to compare some of their situations to the latest complaints here. Their concerns for basic needs such as food and water as rare commodities and no compensation for being out of work added deeper perspective to this global pandemic."
About OCC
Offering nearly 100 degrees and certificates, OCC is Michigan's largest multi-campus community college and No. 1 transfer institution in the state. The College provides academic, career training and enriching experiences, designed to empower students to reach their potential and enhance our community. More than 1 million students have enrolled in the College since it opened in 1965. A seven-person Board of Trustees governs OCC. Board members are elected on a non-partisan, at-large basis, serve as volunteers and are not paid. Mission statement: OCC is committed to empowering our students to succeed and advancing our community. Learn more at oaklandcc.edu.
###
Media Contact: OCC Marketing & Communications | 248.341.2020 | contactus@oaklandcc.edu