When it comes to solving math problems Oakland Community College is moving on up and the results are impressive.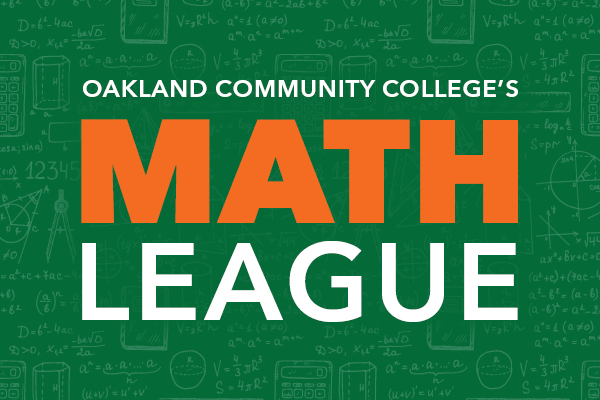 OCC's team of 235 math students earned the top spot in the Midwest region and second in the nation in the American Mathematical Association of Two-Year Colleges (AMATYC) Student Math League. The team competed amid nearly 200 colleges and thousands of students nationwide in the two-part Student Mathematics League competition.
Individual Results
OCC students who scored in the top rankings for individual results include Jonghyun Park, who ranked 8th in the nation overall and second in the Midwest, as well as Akshaj Enaganti and Amogh Bollapalli, who ranked 4th and 5th respectively in the Midwest.
What the math competition entails
OCC mathematics faculty member and math league facilitator Julie Gunkelman said students take an individual one-hour, 20-question multiple choice AMATYC exam in fall and winter semesters. The exam contains some nonstandard challenging questions to test their problem-solving skills and see how they compare to others from around the nation. 
"There is both strategy and skill involved – we advise students not to answer unless they can eliminate at least two, but preferably three of the five answers," she said. "Our Math Department is truly excited to work with such awesome problem solvers."
Any OCC student who does not have a degree from another college is eligible to participate. Fliers containing the test date and a QR code to register are posted on campus and available to math faculty college wide. 
"We were beaming with pride when we learned our regional and national placement this year."
While Gunkelman coordinates the league test for OCC, she says it's a team effort involving several faculty including Jeff Parent, Tanya Reynolds, Dave Nosanchuk, Dan Puig-Pey and Linda Britton who help proctor the exam with several other faculty members routinely assisting as well.  
Jeff Parent, mathematics faculty, shared while the win equals great bragging rights, students get added value with up to six scholarships available each year through the OCC Scott Vance Memorial Math Scholarship. Scholarships are granted to math league participants who score well on the exam and can be used for tuition, education and fees. Vance was a student, tutor and supplemental instructor at  OCC in the Math department. When Vance passed away in 2015, Parent worked with the OCC Foundation to create a scholarship for OCC math students.
"As a supplemental instructor Scott's talent was so widely known that I had to book him five months in advance because his talent was so appreciated by math faculty," says Parent. "We use the math league competition as a way to choose someone who is talented in math and has enthusiasm for it, much in the same way Scott was."
Looking ahead, Gunkleman and her colleagues believe the 'constant' in the equation: there is 'absolute value' in the competition and are excited for next year's competition. They invite students who are interested to contact a member of the math department for more information.  
About OCC   
Oakland Community College offers nearly 100 degrees and certificates programs with the resources students need to be successful and advance our community. As a top transfer institution, OCC offers one of the state's most affordable tuition rates and flexibility in scheduling with face-to-face and online options. The College is nationally recognized for its high-demand career training with expert faculty in their fields. More than 1 million students have enrolled in the College since it opened in 1965. Learn more at oaklandcc.edu.   
 ###  
Media Contact: Marketing & Communications | 248.341.2020 | contactus@oaklandcc.edu