Prospective High School All-Stars Sign "Letters of Intent" with OCC's Technical and Public Services Programs 

Proud parents, instructors, counselors and administrators gathered around with camera phones, cheers and tears celebrating their high school seniors as they put pen to paper and committed to their school of choice. They know their soon-to-be young adult is on the forefront of a budding career and great quality of life.

"It's an exciting time for students who are planning for a career in the technical, skilled trades and public service fields, "said Joseph Petrosky, associate provost of academics and workforce. "A day like today celebrates our prospective community heroes – those ready to gain the skills necessary to compete in high demand occupations such as criminal justice, EMS, fire fighter technology, auto servicing, pre-engineering, transportation and more."
A total of 16 area students signed "Letters of Intent" to commit to pursue a degree or certificate in one of OCC's technical or public services programs at this national event sponsored by OCC and the National Coalition of Certification Centers (NC3). The event mirrors the NCAA's National Signing Day for athletes who commit to play sports in college. OCC is one of many community colleges around the country who held a signing event on April 20. The event was live streamed nationally on the National Signing Day website.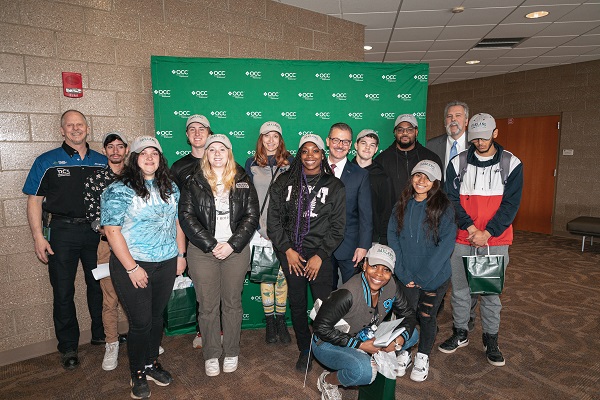 Students who signed a Letter of Intent join OCC faculty and staff at the College's National Signing Day event.
The participating students committed to a variety of programs in OCC's Engineering, Manufacturing and Industrial Technology and Public Services areas of study.
Students who signed letters of intent at the ceremony and their chosen fields of study included
D'Mauri Alexander, West Bloomfield, Computer Aided Design

Vernell Borndes, Waterford, Fire Fighter Technology

William Brant-Badillo, White Lake, Computer Aided Design
Ava Briggeman, Rochester Hills, Automobile Servicing
Laila Colbert, Southfield, Criminal Justice
Angela Collins, Waterford, Emergency Medical Services
Cole Heydenburg, Bloomfield Township, Emergency Medical Services
Breanna Hughes, Pontiac, Automobile Servicing
Katherine Kosch, Madison Heights, Pre-Engineering
Jullian Love, Detroit, Automobile Servicing
NaShyra Martin, Detroit, Technological Services
Jayde Medlock, Pontiac, Science
Megan Moses, Waterford, Welding Technology
Noah Reis, Pontiac, Pre-Engineering
Audrey West, Highland, Collision Auto Repair
Jhamita Wright, Pontiac, Criminal Justice
Angela Collins of Waterford has always been interested in working in the medical field and already earned her First Aid and CPR certifications while in high school. She signed her Letter of Intent to study in OCC's Emergency Medical Services program because of its reputation.
"I wanted to study EMS at OCC because the program is really good and it will get me where I want to go and help me be successful in the medical field," she said.
"Our commitment to these students and their success is our top priority," added Petrosky. "This is our first year participating in this national event and it will be an annual event for us from now on."
For more information about OCC's technical and public service programs as well as admission to OCC, visit https://www.oaklandcc.edu/admissions/
About OCC
Oakland Community College offers nearly 100 degrees and certificates programs with the resources students need to be successful and advance our community. As a top transfer institution, OCC offers one of the state's most affordable tuition rates and flexibility in scheduling with face-to-face and online options. The College is nationally recognized for its high-demand career training with expert faculty in their fields. More than 1 million students have enrolled in the College since it opened in 1965. Learn more at  oaklandcc.edu.
###
Media Contact: Marketing & Communications | 248.341.2020 | contactus@oaklandcc.edu