In celebration of the U.S. Department of Labor's National Apprenticeship Week (NAW) Nov. 13-19, OCC is hosting two one-hour online information sessions Thursday, Nov. 16 for employers to learn about the benefits of Registered Apprenticeships in every industry sector.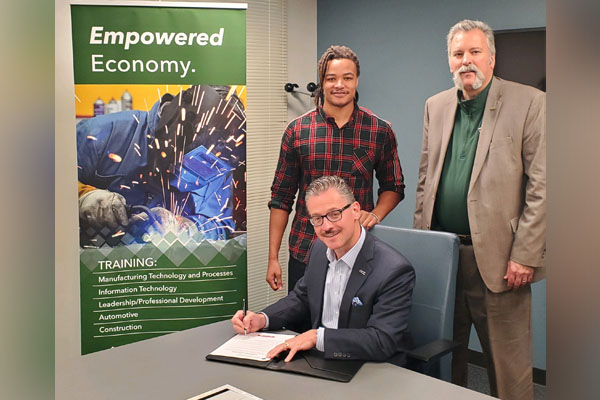 OCC Chancellor Peter Provenzano is joined by pre-apprenticeship student Zavier Myles and Joe Petrosky, associate provost of Academics and Workforce, for the signing of the College's NAW proclamation.
"Registered Apprenticeships at OCC assist business and industry with a workforce solution for building, recruiting and retaining a talented and diverse labor pool," said Cameron Albring, OCC's Interim Director of Career Services.
The information sessions will be held at 1 p.m. and 5 p.m. To register, employers can visit Apprenticeship Information Sessions.
View OCC's NAW Proclamation here or on the Department of Labor's website. For more information about OCC's Apprenticeship program, visit Apprenticeship.
###
About OCC   
Offering nearly 100 degrees and certificates, OCC is Michigan's largest multi-campus community college and one of the top transfer institutions in the state. The College provides academic, career training and enriching experiences, designed to empower students to reach their potential and enhance our community. More than 1 million students have enrolled in the College since it opened in 1965. A seven-person Board of Trustees governs OCC. Board members are elected on a non-partisan, at-large basis, serve as volunteers and are not paid. Mission statement: OCC is committed to empowering our students to succeed and advancing our community. Learn more at oaklandcc.edu.
Media Contact: Marketing & Communications | 248.341.2020 | contactus@oaklandcc.edu