Students in Oakland Community College's Nursing program topped off their final semester with an academically rigorous, clinically-based initiative that investigated topics critical to the healthcare system. The students presented their findings at the biannual "Evidence Based Practice Fair" at the Highland Lakes Campus, attended by students, faculty and staff and open to the public.
According to Mary Miles, OCC Dean of Health Professions, completion of the Evidence Based Practice Project demonstrates that students have met competencies that are critical in the health care environment that they are entering. The project was initially developed by Nursing faculty member Kathy Schulte more than 15 years ago and has evolved over the years to now include an exhibition poster fair in which students can disseminate their findings.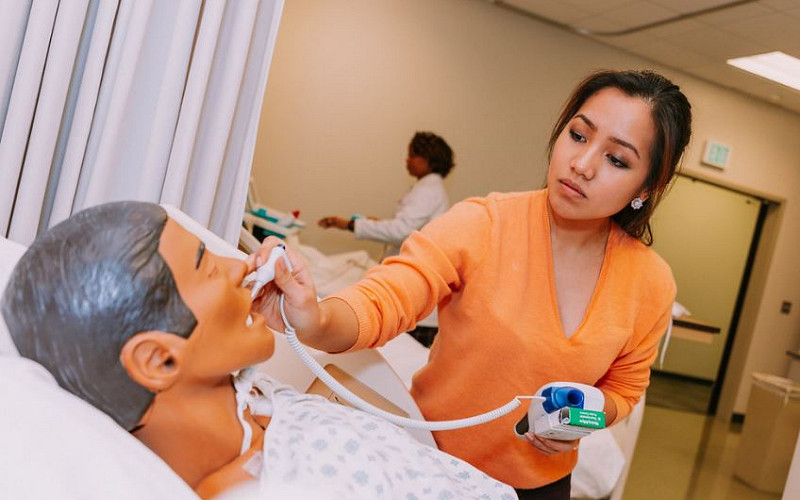 Recent OCC nursing program graduate Maimouna Diallo described her team's capstone project as a chance to combine classwork and clinical time with the very real issues facing healthcare professionals. Diallo believes her team project, "Second Victims in Medical Errors," has the potential to save lives.
"We found there has been considerable research on nurses and safety and the impact a nursing error may have on the patient and greater system, but far less research on grave consequences, like suicide," said Diallo. "Our team explored the resources available to nurses to help them navigate the emotional toll of medical errors, and we found there is a definite need for structured peer management and facility process improvement."
Diallo and her classmates in OCC's NUR 2540 course were required to identify a clinical issue; examine existing research, standards and policies; and propose changes to promote improved practice and patient outcomes. Highland Lakes Library faculty Beth Garnsey and Allison McFadden-Keesling also assisted students to utilize the deep resources of the College's library to find scholarly sources for the project.
Miles says the students view the capstone project as more than a graduation requirement. "The project challenges our nursing students to apply their coursework, clinical practice experience and critical thinking skills to a topic of great importance to healthcare professionals and the healthcare system. They embrace the chance to operate in an evidence-based practice and use their findings to make a difference."
Diallo, who transferred in December to the University of Michigan – Flint to earn a Bachelor of Nursing Science, says she has support from her co-workers at Beaumont Hospital to continue her capstone project work.
"The work our OCC team started is too important to leave it as just a college project. We believe that what we uncovered in our capstone project needs to be further explored so we can make a real difference," she said.
OCC's nursing program is one of the largest and most affordable nursing programs in the state. Students receive an exceptional variety of clinical experiences, including rotations at William Beaumont and Detroit Medical Center hospitals. For more information about the OCC Nursing Program, visit https://www.oaklandcc.edu/health/nursing/default.aspx.
About OCC
With multi campus system in Oakland County, OCC is Michigan's No. 1 transfer institution, offering nearly 100 degrees and certificates. The College empowers academic and developmental experiences, allowing students to reach their potential and enhance their communities. More than 1 million students have enrolled in the college since it opened in 1965. A seven-person Board of Trustees governs OCC. Board members are elected on a non-partisan, at-large basis, serve as volunteers and are not paid. Mission statement: OCC is committed to empowering our students to succeed and advancing our community. Learn more at oaklandcc.edu.
###
Media Contact: OCC Marketing & Communications | 248.341.2020 | contactus@oaklandcc.edu