Nursing Program
Accreditation
The Associate Degree nursing program at Oakland Community College located at the Waterford, Michigan and Southfield, Michigan campuses is accredited by the Accreditation Commission for Education in Nursing (ACEN).
3390 Peachtree Rd. NE
Suite 1400
Atlanta, GA 30326
404-975-5000
The most recent accreditation decision made by the ACEN Board of Commissioners for the Associate Degree nursing program is Continuing Accreditation.
View the public information disclosed by the ACEN regarding this program
The Oakland Community College nursing program is one of the largest and most affordable nursing programs in the state. Our students receive an exceptional variety of clinical experiences, including rotations at William Beaumont, Henry Ford Health, Ascension Health and Detroit Medical Center hospitals. A complete list is available in our Nursing Student Handbook which is forthcoming.
According to the American Nurses Association (ANA), "Nurses and other healthcare professionals persevered through 2021 and its obstacles, including the COVID-19 pandemic, staff shortages, and increasing rates of burnout, and their selflessness, drive and honesty have not gone unnoticed by the American public, according to Gallup's annual Most Honest and Ethical Professions Poll. In that survey, 81% of respondents rated nurses as being very high or high as professionals who are honest and ethical. Nurses ranked at the top among 22 professions listed in the most recent survey. In results released January 2022, Americans ranked nurses as the most honest professionals for the 20th consecutive year on a list that included physicians, grade-school teachers, pharmacists, and other professions (January 2022)."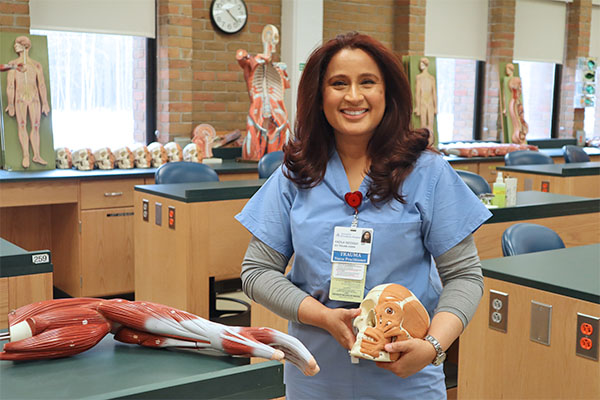 OCC Alum Accomplishes Dream as Trauma Surgery Nurse Practitioner
"I am who I am because of OCC. I would not have been able to accomplish becoming a nurse if it was not for the flexibility and motivation from OCC. The college's faculty and staff offered me tremendous support every step of the way."
Learn more...