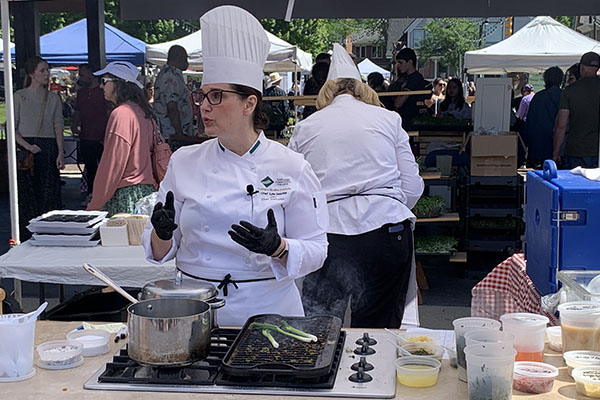 Chef Julie Selonke cooking at the Farmington Farmers Market
On a sunny Saturday morning in June, OCC Chef Julie Selonke was making one of her favorite recipes—early summer succotash with grilled shrimp, cheddar grits and sundried tomato jam. However, she wasn't cooking in her "home kitchen" on OCC's Orchard Ridge campus. Instead, she was doing what she loves to do: cooking for and teaching a gathering crowd in downtown Farmington's outdoor farmers market.
Her cooking demonstration was part of OCC's annual sponsorship of the Farmington Farmers' Market to give back to the community while promoting the College's award-winning Culinary program.
"It's an honor to be asked to share my passion with the fantastic folks Oakland Community College serves," said Selonke. "The value of demonstrating at these kinds of functions for me is sharing my love of cooking, hearing the awes and yums, and hopefully sparking a flame of interest in the hospitality industry in the audience." 
In addition to the Farmington Farmer's Market sponsorship, OCC is also sponsor of a variety of events this summer, including:
Diversity Expo at the Royal Oak Farmer's Market, July 26, through the Royal Oak Chamber of Commerce featuring representatives from OCC's offices of Admissions, DEIJ, Government and Community Relations.
The

Milford Memories Summer Festival

sponsorship includes an OCC tent and an opportunity to connect with prospective students, colleagues and alumni. Volunteers will tout the many offerings at the College and enjoy art, entertainments and a variety of events on August 12-14
Downtown Royal Oak's

Arts Beats and Eats

sponsorship that takes place over Labor Day weekend. Employees and students are admitted free on OCC Day Saturday, Sept. 3, with their College ID.
"These sorts of sponsorships help to build preference for the OCC brand and strengthen relationships within the community while keeping our finger on the pulse of consumer needs and expectations as it relates to workforce development and higher education," said Eunice Jeffries, OCC's director of government and community relations. "Showing that OCC is embedded in the community is a credible way build trust and preference for the college. It is our way of giving back and demonstrating what is important to the community is important to OCC."
About OCC
Offering nearly 100 degrees and certificates, OCC is Michigan's largest multi-campus community college and one of the top transfer institutions in the state. The College provides academic, career training and enriching experiences, designed to empower students to reach their potential and enhance our community. More than 1 million students have enrolled in the College since it opened in 1965. A seven-person Board of Trustees governs OCC. Board members are elected on a non-partisan, at-large basis, serve as volunteers and are not paid. Mission statement: OCC is committed to empowering our students to succeed and advancing our community. Learn more at oaklandcc.edu. 
 
Media Contact: Marketing & Communications | 248.341.2020 | contactus@oaklandcc.edu