Faculty at OCC are helping students with the cost of college, reducing barriers and improving completion rates. How? By adopting Open Education Resources for their classes. 
From textbooks, videos and labs to course modules, assignments and assessments, Open Education Resources (OERs) encompass free and low-cost teaching, learning and research resources available to students and faculty with legal permission for open use.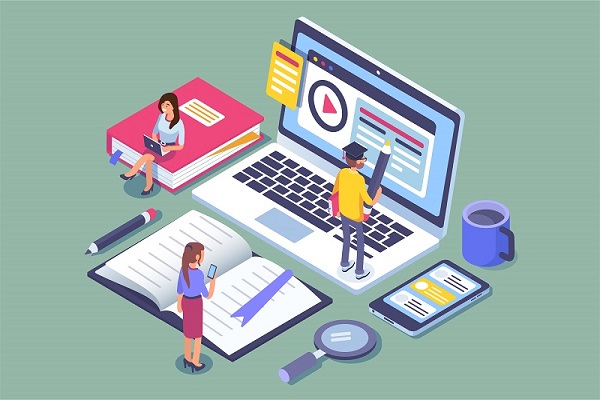 By adopting OERs inside OCC classrooms – both in person and online – students have saved more than $1 million since the College began tracking OER usage in Winter 2020. In doing so, faculty have helped ease the financial burden of college for their students and gain easier access to course materials. 
According to national studies, not only are students saving money with OERs but statistics show students who use the free resources have a higher completion rate. A 2019 study by Clinton & Khan found that courses with open textbooks had withdrawal rates that were 29% lower than courses with commercial textbooks. 
"We know it is working when it comes to completion as well as cost savings. Financially we are doing a wonderful thing and also helping retention," said Tara Broeckel, OCC English faculty member and OER facilitator.
More than 10,000 OCC students have benefited from the faculty-led initiative as of Fall 2022. Without this cost savings option, students reportedly take fewer courses, not register for a course or may decide to not purchase the required textbook and earn a poor grade without the textbook, or ultimately drop a course. 
"I find ways to get the older version or rentals. I make illegal photocopies– I'm not even going to lie about that because it's what I have to do to make it through the class," said one OCC student. "And I actually ended up dropping one of my classes because I couldn't afford the textbook."
OER Benefits for Faculty 
"The Creative Common license does not just provide free materials," OCC faculty librarian Wendy Kamps Tsao said. "Faculty also can change the materials to meet their needs." 
Broeckel has been able to personalize learning by tailoring textbooks, lesson plans and language on quizzes to ensure it is appropriate for the College's demographic. 
"Through OERs, we have the ability to update course information so it's relevant to our students," she said. "We know personalized learning has a positive impact. When working with content they are interested in, they are more likely to engage in school." 
OERs are supported by the OCC Foundation. The personally funded Provenzano Innovation Fund, which focuses on faculty-led classroom innovation, has also made a major impact in reducing textbook and other material costs for students with minimal investment. 
Chancellor Peter Provenzano hopes increased awareness will provide more savings and reduced barriers for students.
"Teaching innovation, especially OERs, is near and dear to my heart because a relatively small financial investment yields big results for years to come," he said. "This is a model of how supporting faculty innovation with modest resources can have an outsized impact on our students." 
Learn more about OERs at the OCC Library's  Open Education Resources page.
About OCC
Oakland Community College offers nearly 100 degrees and certificates programs with the resources students need to be successful and advance our community. As a top transfer institution, OCC offers one of the state's most affordable tuition rates and flexibility in scheduling with face-to-face and online options. The College is nationally recognized for its high-demand career training with expert faculty in their fields. More than 1 million students have enrolled in the College since it opened in 1965. Learn more at  oaklandcc.edu.
###
Media Contact: Marketing & Communications | 248.341.2020 | contactus@oaklandcc.edu