Michigan Lawyers Weekly recently conducted its annual reader ranking survey naming Oakland Community College's Paralegal program first in the publication's education category. While the College's Paralegal program has long been recognized as a leader in the field, this is the first time it was ranked first by the publication's readers.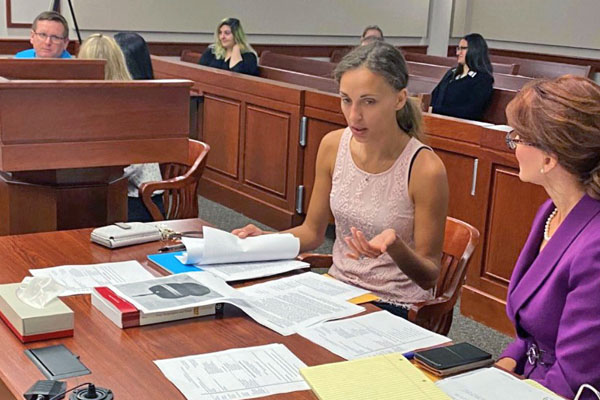 OCC Paralegal students at the trial preparation class at 47th District Court
The publication provides readers with its annual lists of leading businesses and organizations that serve the legal community based on readers votes. In addition to the Education category where OCC's Paralegal program was ranked number one, categories included such business services as Advertising, Banking, Commercial Real Estate and Financial. Besides OCC's first-place ranking, Ferris State University, Henry Ford College and Macomb Community College were ranked second, third and fourth respectively in this year's survey.
According to the U.S. Bureau of Labor Statistics, demand for paralegal professionals is expected to grow by 14% over the next decade. The median wage is nearly $60,000 annually and requires an associate degree to enter the profession.
Paralegals work for law firms, corporate legal departments and government agencies, collaborating with lawyers on area like legal and factual research, court and agency filings, contracts, real estate closings and title examinations, and trial documents, evidence and witness preparation.
"This ranking will further enhance opportunities for our students and alumni as it confirms the high-quality paralegal education they receive at OCC," added Sara Bowman, Paralegal program director. "Additionally, law offices with employment opportunities will be more inclined to reach out to a successful program like OCC's when seeking candidates."
Paralegal faculty member Rob Long said the paralegal profession is a high growth, high demand field, and the OCC program is an excellent entry point to the legal profession.
"Classes prepare students with the practical skills they need in a law firm in an extremely cost-effective manner. For students qualifying for the Michigan Reconnect program it may even be tuition free," he said. "While paralegals may not provide legal services directly to the public, they assist lawyers in nearly every aspect of law practice. And if students choose to go on to law school, it gives them the practical skills that law schools often overlook, but employers require."
For more information about OCC's Paralegal program, visit Paralegal.
About OCC
Oakland Community College offers nearly 100 degrees and certificates programs with the resources students need to be successful and advance our community. As a top transfer institution, OCC offers one of the state's most affordable tuition rates and flexibility in scheduling with face-to-face and online options. The College is nationally recognized for its high-demand career training with expert faculty in their fields. More than 1 million students have enrolled in the College since it opened in 1965. Learn more at  oaklandcc.edu.
###
Media Contact: Marketing & Communications | 248.341.2020 | contactus@oaklandcc.edu