OCC Chancellor Peter Provenzano, Jr. and Provost Jennifer Berne discussed Michigan Reconnect and the Michigan New Jobs Training (MNJT) program while testifying at two state Legislature committee meetings on March 17 in Lansing.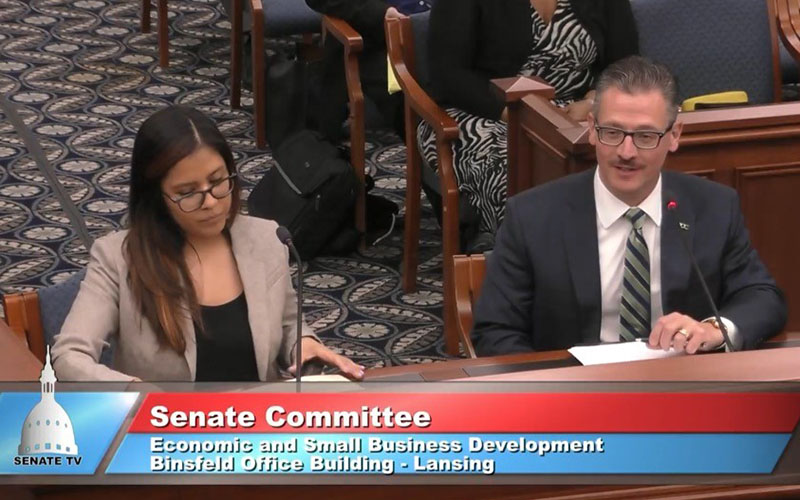 Chancellor Peter Provenzano at Michigan State Legislature committee meeting
During the House Appropriations Subcommittee on Higher Education and Community Colleges, Provenzano and Berne talked about how Michigan Reconnect supports the development of a highly skilled workforce to individuals who may have thought these careers were not within their reach.

"We have seen a substantial increase in students over age 25, largely due to the Michigan Reconnect program," Provenzano said. "We currently have over 1,100 Michigan Reconnect students enrolled at OCC with nearly 400 of those first-time enrollees to OCC."

Berne said an analysis of cohort data reveals that Michigan Reconnect students at OCC have a higher average GPA during the semesters they received the scholarship.

"We also observed that the fall to winter retention rate of our enrolled Michigan Reconnect students is significantly higher (81%) than students who didn't receive the scholarship (72%)," she said.

During the Senate Committee on Economic and Small Business Development, Provenzano and Ana Del Angel of Williams International in Pontiac talked about the importance of the MNJT program, which is designed as an economic development tool and allows community colleges to provide free training for employers creating new jobs and/or expanding operations in Michigan.

OCC utilizes the MNJT program when partnering with state and local economic development agencies creating Talent Development Proposals for Oakland County based companies. OCC has been working with Williams International on a Michigan New Jobs Training contract. The original Talent Development Proposal in collaboration with Oakland County totaled $500,000 over three years with an estimate of 620 new jobs. Williams International has already hired over 400 positions and is utilizing OCC to facilitate the training for these individuals.

In December 2021, OCC completed Talent Development Proposals with project sizes estimated between $4.3 million and $9.3 million. 

OCC has been an administrator of the MNJT program for Oakland County businesses since its inception and has received nearly $12 million authorized in MNJT contracts since 2011.
###

About OCC
Offering nearly 100 degrees and certificates, OCC is Michigan's largest multi-campus community college and No. 1 transfer institution in the state. The College provides academic, career training and enriching experiences, designed to empower students to reach their potential and enhance our community. More than 1 million students have enrolled in the College since it opened in 1965. A seven-person Board of Trustees governs OCC. Board members are elected on a non-partisan, at-large basis, serve as volunteers and are not paid. Mission statement: OCC is committed to empowering our students to succeed and advancing our community. Learn more at oaklandcc.edu.
Media Contact: Marketing & Communications | 248.341.2020 contactus@oaklandcc.edu