Since its launch in Feb. 2021, the Michigan Reconnect program has seen more than 18,000 participants return to college to begin or finish their degree, including more than 3,100 OCC students. The program is designed for adults, age 25 or older, with free tuition and support toward completion of an associate degree or certificate.
Is the program really "free?"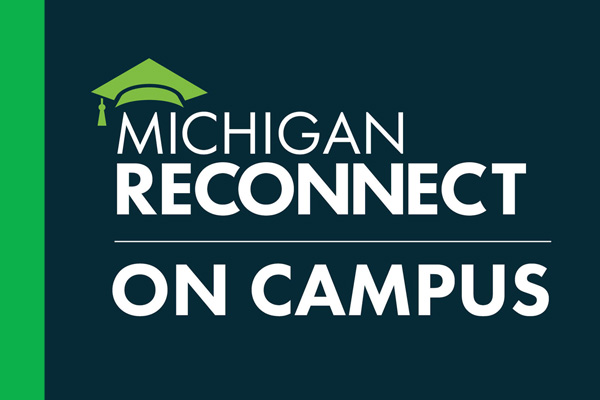 Yes. Individuals need to apply and meet program criteria. With Fall semester registration in full swing, OCC is hosting a series of information sessions in July and August to help eligible Oakland County residents understand the Michigan Reconnect program, answer questions, provide an overview of resources including free tuition, and apply to OCC.
A "Reconnect on Campus" event will be held Tuesday, July 18, 6:30 to 8 p.m. on the Auburn Hills campus. At this event, OCC alumni will share their experiences and, along with staff, provide tips on how to be a successful adult student.
In addition, OCC will host a series of virtual information sessions, where attendees will learn about the Michigan Reconnect Program and discover what OCC has to offer from certificates to transferable associate degrees. Admissions staff will also help with the application process.
To register for the Reconnect on Campus event or the virtual information sessions, visit https://www.oaklandcc.edu/mireconnect/.
How do individuals qualify?
To qualify for the free tuition through the Michigan Reconnect program, Michigan residents must meet all the following criteria:
At least 25 years of age

U.S. citizen or eligible non-citizen

Hold a high school diploma or GED

Do not currently hold a college or university degree

Students are required to earn a minimum of 12 credit hours in a 12-month period.
"Many students who may have started college but had to stop because of life issues are using this Michigan Reconnect program to return to finish a degree or certificate while getting free tuition at OCC," said OCC Chancellor Peter Provenzano. "We had more than 160 Reconnect students graduate this year, and many indicated that this program was the incentive they needed to start or go back to college and complete their academic journey. OCC is great place to get this done."
About OCC
Oakland Community College offers nearly 100 degrees and certificates programs with the resources students need to be successful and advance our community. As a top transfer institution, OCC offers one of the state's most affordable tuition rates and flexibility in scheduling with face-to-face and online options. The College is nationally recognized for its high-demand career training with expert faculty in their fields. More than 1 million students have enrolled in the College since it opened in 1965. Learn more at oaklandcc.edu.
###
Media Contact: Marketing & Communications | 248.341.2020 | contactus@oaklandcc.edu