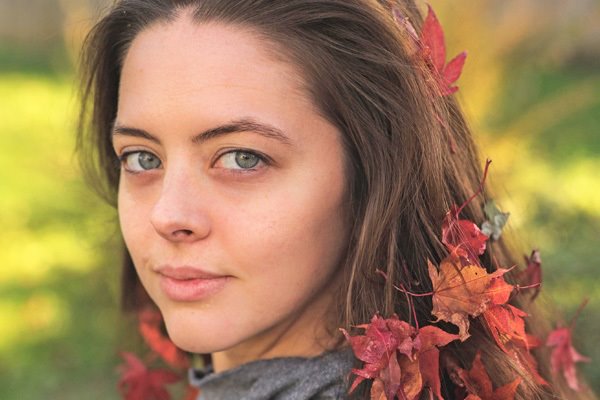 Julie Kline received first place in drama as part of the new OCC Speech and Drama Prize competition.
A standing ovation is well deserved for Julie Kline who is pursuing an associate degree in theatre at Oakland Community College (OCC). Kline received first place in drama as part of the new OCC Speech and Drama Prize competition. She performed her poem Hushing Silence and a monologue from Women and War by Jack Hilton Cunningham, tying the theme of violence and grief.
Kline is one of five students who received $1,500 in scholarship money as part of the new competition developed by OCC faculty Carole Bennett and Jennifer Little. With the success of this year's competition, both hope to continue the competition in years to come.
The idea was developed to offer talented students in drama and speech the opportunity to perform and possibly increase student participation in both the forensic team and theatre programs.
Kline said she pursued the competition for the experience and joy of participating and potential of being seen more widely as a performer.
"Creating one of the performance pieces sparked passion in me to create more which is a wonderful gift," she said.
 Criteria for the scholarship
Bennett explained that students needed to be registered for the fall semester. Winners could not be Oakland Early College (OEC)/dual enrolled students.
"Students had to record an eight-minute video with either a speech (informative or persuasive) or dramatic monologue(s). There had to be a central theme and we looked for strong storytelling skills, engagement with the subject and ability to move us," she said.
Feedback from experts
The drama and speech competitions were judged by independent professionals in the field. Paul Friedrich and Tyler Hill, both with a master's degree in communication judged the speech competition. 
For the drama competition, Little explained the judges also offered students networking opportunities.
Rita Harvey, Broadway actress, who worked with Little on "The Phantom of the Opera" both on National Tour and Broadway as well as Leah Smith, artistic director of Detroit Repertory Theater gave their time and talent to the competition.
"They offered our students real world feedback on their work and what more they can build on as they go forward." Little said. "With Leah, having a local professional contact, is key for young talent. As for Rita, the Broadway community is extremely small, so beginning to network now, is key for those students interested in pursuing a career in theatre."
Learn more about both departments and scholarship opportunities
For students interested in competing next year, the Forensic Team webpage will announce the information in late March / early April. Students who want to perform or speak with the forensic team can contact Carole Bennett at cabennet@oaklandcc.edu. The team will participate in events October 1 at Saginaw Valley State University with a competition and workshop and on December 10 (place TBD).
Students interested in the scholarship or being in a play at OCC should contact Jennifer Little at jalittle@oaklandcc.edu. Little said classes are back with opportunities ranging from acting to technology.
"We are planning on two plays this year and using all student casts. We encourage students from all areas to come check out theatre."
### 
About OCC 
Offering nearly 100 degrees and certificates, OCC is Michigan's largest multi-campus community college and one of the top transfer institutions in the state. The College provides academic, career training and enriching experiences, designed to empower students to reach their potential and enhance our community. More than 1 million students have enrolled in the College since it opened in 1965. A seven-person Board of Trustees governs OCC. Board members are elected on a non-partisan, at-large basis, serve as volunteers and are not paid. Mission statement: OCC is committed to empowering our students to succeed and advancing our community. Learn more at oaklandcc.edu.

Media Contact: Marketing & Communications | 248.341.2020 | contactus@oaklandcc.edu