Talk to many community college students and they will say affordability, flexibility, value and small class sizes are attributes that make it attractive to enroll. Some, however, may hesitate to enroll in a community college due to the perceived lack of social activities available.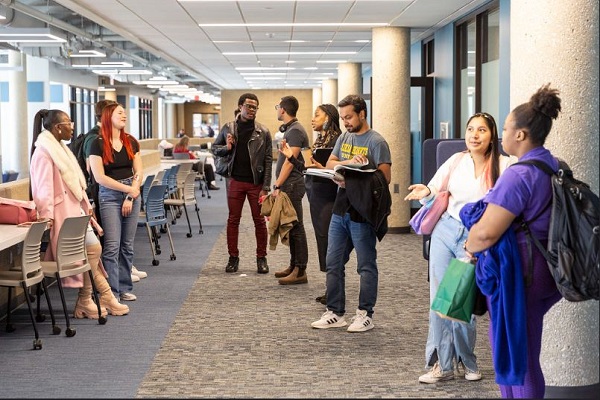 Students active in clubs and organizations make friends and have many life-changing experiences.
That's not the case at Oakland Community College where dozens of clubs and activities can lead to lasting friendships and personal and professional connections.
The benefits of club involvement
Stacey Crews, OCC's Dean of Student Engagement, explained that getting involved in clubs and organizations creates a healthy, safe and inclusive college where students can maximize their personal potential while pursuing their educational dreams.
Crews said research on college students who participate in student organizations or clubs indicates they have a more positive college experience.
"Participating in student organizations or clubs can have numerous benefits for college students, personally and academically ," she said. "They are more likely to feel connected to their campus community and have a higher sense of belonging. Additionally, involvement in these organizations can lead to improved leadership skills, networking opportunities, and overall personal development. Furthermore, students participating in these activities often have higher GPAs and are more likely to graduate on time."
Kara Jenneker finds what she was looking for with PTK
Troy resident Kara Jenneker is a great example of the value of getting involved in OCC student organizations. Jenneker, who first attended OCC in the fall of 2016, took a break after the semester due to health reasons but went back in the summer of 2021. She was searching for ways to connect with the campus and get involved and found a perfect match by becoming a member of OCC's Phi Theta Kappa (PTK) chapter in the winter of 2022. PTK is the international honor society of two-year colleges and academic programs.
"One of the most fulfilling and rewarding experiences I have gained during my time at OCC has been through PTK," Jenneker said. "Through PTK I have gained skills, experiences and memories that have shaped my college experience, served my community, and left a lasting impact that I can be proud of. As a second-year officer and now president, I have gained significant leadership and career building skills that will help me in my future endeavors."
PTK is one of several organizations and clubs OCC students are encouraged to explore that focus on a variety of areas and interests, such as the Black Student Union, IGNITE (aimed at future female political leaders) and InterVarsity Christian Fellowship.
Current and potential students wanting to explore the numerous clubs and activities at OCC should visit www.oaklandcc.edu/studentengagement/student-organizations/. For additional resources visit Student Engagement at OCC.
About OCC    
Oakland Community College offers nearly 100 degrees and certificates programs with the resources students need to be successful and advance our community. As a top transfer institution, OCC offers one of the state's most affordable tuition rates and flexibility in scheduling with face-to-face and online options. The College is nationally recognized for its high-demand career training with expert faculty in their fields. More than 1 million students have enrolled in the College since it opened in 1965. Learn more at oaklandcc.edu.  
### 
Media Contact: Marketing & Communications | 248.341.2020 | contactus@oaklandcc.edu