Four Oakland Community College students who were interested in exploring a career in cybersecurity were awarded unique internships thanks to a partnership in the Metro-Detroit Regional Vehicle Cybersecurity Institute, a regional-based cybersecurity consortium. The consortium, led by University of Detroit Mercy (UDM), received a $1.12-million award from the United States Department of Defense (DoD) to establish the cybersecurity institute.
Ken Sigler, OCC faculty member for computer information systems, business and information technologies, explained the partnership  provided a great opportunity for eligible OCC students to apply for significant award funding and a cyber-related internship.  The award was given out in February, 2023 and four OCC students - Sandeep Boppana, Erin Leahy, Benjamin Rosenberg and Turner Woodward – qualified for the award and participated in the internship from May - July 2023.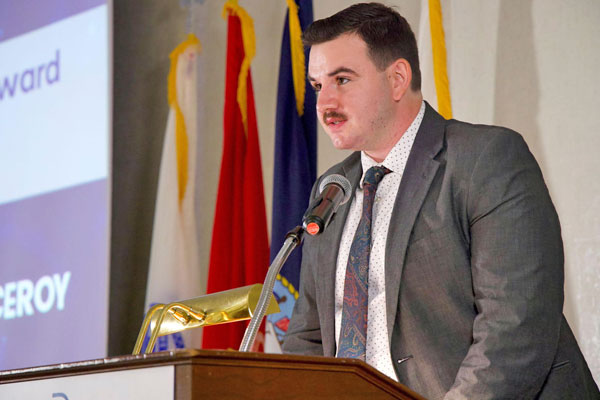 Turner Woodward is one of four OCC students to be awarded unique cybersecurity internships
"Eligible students who applied qualified for $5,000 in direct funding from this initiative," Sigler said. "The amount of the award was determined based on the number of eligible students that apply."
Woodward and Rosenberg were in the top 10% of their internship class and invited to the Pentagon, and Leahy was invited to apply for a 2024 summer Internship within the National Security Agency (NSA).
"Needless to say we are extremely proud of these students and look forward to continuing to provide empowerment opportunities like these in the future," Sigler added.
Developed in consultation with industry partners including OCC, the consortium was designed to expand and enhance the cybersecurity engineering workforce and supports upskilling and reskilling for vehicle cybersecurity by prioritizing underrepresented populations, military personnel and veterans. 
The award came through Griffiss Institute's Virtual Institutes for Cyber and Electromagnetic Spectrum Research and Employ (VICEROY) program, which establishes cyber institutes at higher learning institutions with the purpose of critical cyber operational skill development for future military and civilian leaders. 
OCC engineering student receives transformative internship experience through initiative
OCC engineering student Woodward plans to transfer to the University of Detroit Mercy to earn a degree in Electrical Engineering with a concentration in Computer Engineering and a minor in Computer Science. He heard about the VICEROY scholarship through the OCC student newsletter and reached out to Sigler for more information and to apply.
Hadi Nasser, faculty member in computer information systems, business and information technology, said it was a wonderful opportunity for Woodward and the other OCC students to participate in a potentially life-changing opportunity.
"When I distributed the VICEROY announcement throughout my classes, there was an opportunity that opened up for a student somewhere that was extremely valuable for their future career trajectory. I was really proud of Turner when he informed me he was selected amongst the top 10% of the internship participants, with high-distinction at that!" said Nasser.
 Woodward said the program was one the most transformative experiences he had the honor of attending.
"Prior to the internship, I had very little knowledge of cyber security or working in computer science within the federal government or the Department of Defense. I was able to be hands-on with current problems faced by the Department of Defense and work with a team of ambitious individuals who encouraged me to succeed."
He added that interns had the opportunity to work with mentors on a research project related to the Internet of Things (IOT) and security issues within that field.
"We reverse engineered the firmware, analyzed software and hardware configurations, and wrote a paper with our results which we presented to a panel of high-ranking Department of Defense military and civilian staff."
Woodward finished the program as a Distinguished Graduate, selected by his peers to speak on behalf of his fellow interns during graduation. He also had the opportunity to tour the Pentagon and speak with the Deputy Under Secretary of Research and Engineering for the Department of Defense.
"VICEROY provided me with tools necessary to build the future I want. I have connections, experience, and perspective and I believe my life trajectory has changed for the better because of it," Woodward said.   "I came to Oakland Community College because I came from a disadvantaged background, and I did not have the grades or the means to attend any university that I had applied for. Oakland Community College gave me the ability to build my academic strength and has enabled me to exceed and transition to attending my goal university to complete my bachelor's degree."
Woodward hopes to continue his education after that.
"I see myself attempting a master's degree in molecular engineering, and eventually a Ph.D. in quantum computing so I can work with the incredible minds pushing our nation forward."
For further information visit Cybersecurity Consortium.
About OCC 
Oakland Community College offers nearly 100 degrees and certificates programs with the resources students need to be successful and advance our community. As a top transfer institution, OCC offers one of the state's most affordable tuition rates and flexibility in scheduling with face-to-face and online options. The College is nationally recognized for its high-demand career training with expert faculty in their fields. More than 1 million students have enrolled in the College since it opened in 1965. Learn more at  oaklandcc.edu.
 ### 
 Media Contact: Marketing & Communications | 248.341.2020 | contactus@oaklandcc.edu