Priority Registration for Current Students Starts Oct. 25; Winter Semester Classes Begin Jan. 10, 2022
It's time to go winter shopping for classes at OCC, as the opening of winter semester registration begins Oct. 27 running through Jan. 9, 2022. Similar to the frenzy of early holiday shopping, best classes are available for those who register early.
OCC's Winter semester features a variety of course formats for students including in-person' hybrid courses - a combination of in-person and online; and 100 percent online courses for maximum flexibility. To review class schedules for winter semester and for more registration information, visit https://oaklandcc.edu/registration.
Variety of Ways Available to Help Pay for Tuition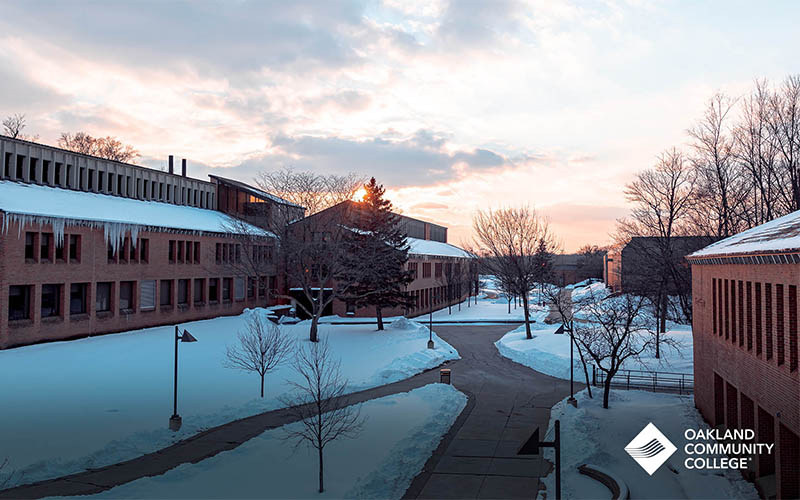 There is no better time than now to secure free funding to attend college. OCC offers one of the lowest in-district tuition rates in Michigan with a variety of one-time grants, government financial aid programs and free scholarships available for OCC students for the winter semester.
HEERF - OCC is offering a total of $7 million in Higher Education Emergency Relief Fund (HEERF) awards to all students registered for classes at OCC this winter. Students enrolled in OCC's winter semester qualify for a minimum of $300 with additional funds granted based on certain qualifying factors including credit status and financial need as indicated on a student's FAFSA.
FAFSA - All college students are encouraged to apply for college financial aid through the U.S. Department of Education. Students should complete the Free Application for Federal Student Aid (FAFSA) beginning Oct. 1, 2021 at https://studentaid.gov/h/apply-for-aid/fafsa. Applying for FAFSA opens up additional opportunities for grants, scholarships and more.
Michigan Reconnect - OCC, in partnership with the Michigan Reconnect program, is offering free in-district tuition to qualifying Michigan residents at least 25 years of age who want to earn an associate degree or certificate. Visit https://www.oaklandcc.edu/mireconnect.
OCC Scholarship Universe - Students should submit an application to Scholarship Universe, a scholarship-matching tool that connects students to internal and external scholarship opportunities.
To become an OCC student, apply free at https://www.oaklandcc.edu/admissions.
Winter semester classes begin Jan. 10, 2022.​​​​​​​
For more information about Winter registration, visit OCC at https://www.oaklandcc.edu/winter.
About OCC
Offering nearly 100 degrees and certificates, OCC is Michigan's largest multi-campus community college and No. 1 transfer institution in the state. The College provides academic, career training and enriching experiences, designed to empower students to reach their potential and enhance our community. More than 1 million students have enrolled in the College since it opened in 1965. A seven-person Board of Trustees governs OCC. Board members are elected on a non-partisan, at-large basis, serve as volunteers and are not paid. Mission statement: OCC is committed to empowering our students to succeed and advancing our community. Learn more at oaklandcc.edu.
Media Contact: Marketing & Communications | 248.341.2020 | contactus@oaklandcc.edu