OCC Alum's Photo Becomes Part of DIA Collection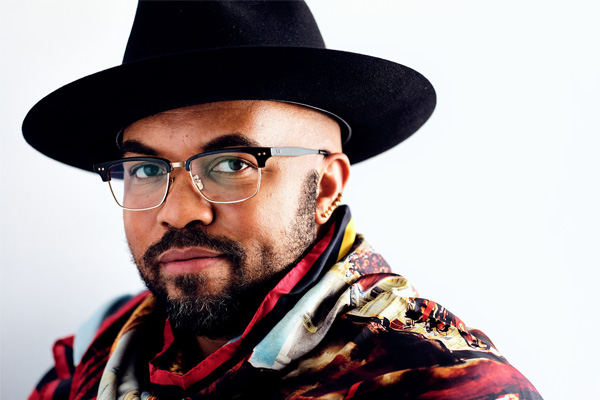 Twelve years ago, Corey Turner remembers seeing a Detroit Institute of Arts' billboard promoting the exhibit of fashion photographer Richard Avedon. The billboard featured supermodel Donyale Luna, one of the featured artist's African American models.
"After visiting Richard Avedon's exhibit at the DIA, I decided I wanted to become a fashion photographer," Turner said. "Even though I did not have experience at the time, I remember thinking during the exhibit that one day my work would be featured there too."
OCC provides a steppingstone to fashion and product photography career
Turner had a camera but did not know the technical aspect of the profession, so he decided to enroll at Oakland Community College, initially taking classes at the Orchard Ridge campus. His expertise and passion for the field took off after transferring to the Royal Oak campus where he was inspired by the teaching methods of OCC fine arts and humanities faculty instructor Rob Kangas.
"Rob encouraged us to photograph and explore what we were interested in versus focusing on random photography," Turner said. "I took practically every photography class that was offered and loved the camaraderie and high caliber of students who I met when I attended."
Those students included classmate Salwan Georges, who was hired by the Detroit Free Press and went on to become a Pulitzer Prize-winning photojournalist for the Washington Post. A fast friendship formed between the two that continues today.

According to Kangas, Turner benefited from being among inspired, like-minded students.
"The best classes always have students who are motivated by the desire to impress their peers, as well as get a good grade from their instructor. But Corey was an outstanding student and promising photographer right from the start," Kangas said.

"Corey knew what he wanted to say and worked tirelessly on his craft. His mature style really started to emerge as he began to add personal projects in, alongside his assignments. It is exciting as an educator to watch such rapid artistic growth."
Pursuing passions in the Big Apple
After showcasing his work during National Portfolio Day, where students meet with counselors, admissions team members and faculty from art and design schools to review portfolios, Turner had his eye on four top schools. While his talent led to scholarship consideration from all four of his top picks, he decided on The School of Visual Arts in New York to continue his photography education. One of his final projects at the highly selective institution was to shoot visuals of men's hats from the iconic Detroit store, Henry the Hatter, as well as a few places in New York.
Coming back to the D
As exciting as it was to live and explore New York City, Turner was homesick and moved back to Detroit in 2014 shortly after the birth of his daughter. Fast forward to 2017 and Henry the Hatter would play a more prominent role in his photography career. He secured a fellowship in 2017 with "Facing Change: Document Detroit," during which he completed a photo essay titled "Henry the Hatter – Surviving the Times," focusing on small businesses dealing with the effects of gentrification. After 65 years on Broadway Street in Detroit, the country's oldest hat retailer was also closing its doors in 2017.

"I could not have predicted that Henry the Hatter was going to close its store on Broadway," Turner said. "I was fortunate to get the green light to spend three months shooting photos and learning so much about the history of Detroit through the multi-generations of people including dignitaries who purchased hats at that store."

Knowing that no one would be able to shoot at the Broadway store ever again, it was important to Turner to capture as many images as possible. This included going up to the second floor where they used to have a hat-cleaning factory, and venturing to the third and fourth floor with hats from the '40s and '50s that were still boxed up.
Fortunately, the store found a bigger and better place, according to Turner, at Detroit's Eastern Market. Selections from this body of photographs were published in Hour Detroit magazine shortly afterward.
DIA dream became a reality
To his surprise, DIA curator of photography, Nancy Barr, followed Turner on Instagram and invited him to submit photographs for a DIA 2022 exhibit, The New Black Vanguard: Photography between Art and Fashion. In the exhibit's New Gazes - Detroit section, Turner's photograph, Dapper Hop, was one of six from Black photographers from Metro Detroit. The museum acquired six photographs from the exhibit, including Turner's, for the museum's permanent collection. This is part of the DIA's commitment to expand its collection with diverse works.
Turner's advice for aspiring photographers and future plans
Over the years Turner has learned a tremendous amount about the photography profession. His advice for others looking to make a living as a photographer?

"I would emphasize the importance of mentorship, shooting with intention and learning the business aspect of the craft."

Asked about his future aspirations, Turner laughs and expresses his desire to see his photography featured at the Getty, MOMA and LACMA. Just like his visit to the DIA, if he can visualize it, he can achieve it.

For more information on Corey Turner, visit  coreylamont.com.