OCC Helps Student Discover a Better Path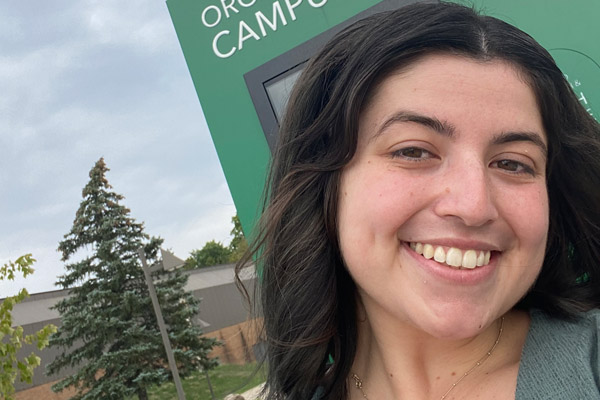 Kalie Fishman always thought she knew what she wanted to do with her life. As she started her freshman year in 2018 at a college in Detroit, she was convinced she'd get a degree in journalism and become a news anchor.

"I always saw myself being on TV," remembers Kalie. "But I guess I just lost interest."

Like most 18-year olds just beginning their college path, Kalie struggled with determining not only her major, but what her ultimate career would be. It was the sort of uncertainty that brought with it mounting anxiety - so much that Kalie decided to leave college after just one semester.

"It was a really tough time for me," Kalie said. "I just didn't know what I wanted. So, I decided to get some counseling."

Her proactive approach to her mental health helped Kalie in both big and small ways. Not only did the therapy help her to manage stress more effectively, but she also struck up a friendship with a woman who was a social worker.

"She really showed me the value of social work and how I could help people," Kalie said. "I've always enjoyed making a difference in people's lives, so becoming a social worker definitely piqued my interest."

As Kalie imagined herself as a social worker, she began to research educational options. Because her grandmother, mom and sister had all attended OCC, following in their footsteps seemed like a perfect fit.
"The more I looked at my options, the more appealing OCC became for so many reasons. The credits were super affordable, the campus was close to my home, and I really liked the small class sizes."
And that wasn't all. By working closely with a counselor at OCC, Kalie learned about OCC's many articulation agreements. This meant her credits would easily transfer to many 4-year colleges in Michigan. Kalie crunched the numbers and realized she could save thousands of dollars by getting a two-year degree at OCC before transferring to another school to get the required master's degree she would need in social work.
In 2019, Kalie started at OCC and graduated in May of 2021 with an associate's degree in social work. And she couldn't be happier with her experience.
"I give so much credit to OCC. The advisors and instructors went above and beyond to help me both in and out of the classroom. The free tutoring was great as well as so many resources. I'm just so grateful."
Now getting her master's degree in social work at Wayne State University, Kalie also works part time as a senior youth specialist at Common Ground Sanctuary. This youth shelter in Royal Oak helps runaway and homeless teens in Oakland County to get the mental and emotional support they need to overcome life's toughest challenges.
"I run drug and alcohol awareness groups where I get to help kids as a mentor," Kalie said. "It's so heartwarming to see them thrive."
For more information visit our Mental Health/Social Work page.
Learn why OCC is a great place to start your someday. Join a campus tour or virtual admission event.